Even with new face Rachel Smalley joining the ranks, Q&A was still dangerously close to being too boring.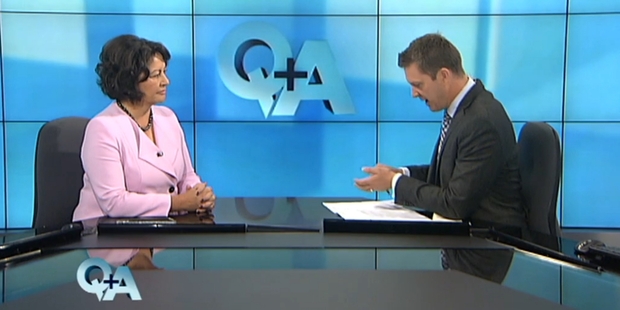 The Minister was quite firm with the political editor despite the fact that the Minister was wearing a rather distracting baby-pink top. But that didn't stop her from putting the political editor in his place.
"It's an 'and and' not an 'either or'," she told poor Corin Dann in answer to some question or other. I didn't have a clue what she was talking about either, but somehow it felt like a high point on Sunday's first episode of a new series of Q+A, TV One's sagely Sunday morning political talkarama.
The old show came back looking ever so slightly glammed up for its run into election year, though it's mostly full of the same old faces. They might get to walk on now like they're celebrities or something, but there's still the inevitable panel.
And, of course, there's the earnest tone of the aforementioned political editor Corin Dann and the astringent presenting style of Susan Wood.
Though there is some excitement in the ranks with the addition of Rachel Smalley, defecting from TV3 where she had seemed like a rising star.
On Q+A she's just one of the gang at the moment, joining Dann and his deputy, Michael Parkin, on the show's interviewing team, rather than doing anything as frivolous as forming an unassailable all-blonde frontline with Wood. This show's trick is to walk the fine line between being serious and being deadly dull - something it pretty much failed at on Sunday's show, which often felt endless and not in an exciting and epic sort of way.
It started off well enough with some chitchat between Wood and her interview team about the political rumblings of the week. Labour leader David Cunliffe is "over-processed" apparently and the Prime Minister's going to change the New Zealand flag to ensure his personal legacy, one of them reckoned.
Then Education Minister Hekia Parata turned up, in that pink top, for her one-to-one with Dann, which all pretty much went her way, though after a while it all became an endless sausage of words.
The political editor seemed stunned by her. I certainly was.
Then came the panel of experts - a political scientist, a political columnist and a local body politician - to tell us what it all meant while the viewers' tweets kept twerking across the bottom of the screen.
Keeping the hits rolling, up next for a one-on-one interview was Dave Cunliffe himself, ducking and weaving around the dogged Dann.
Cunliffe got away with mentioning several times that he was "moving on" and even got in another plug for his dear old hard-working ordinary Kiwi joker Anglican minister dad.
But he is his own worst enemy, one moment regretful over his latest mishap, the next all hazy-eyed and boastful, dreaming of controlling interest rates and taxing the terrible telcos.
"I've written off the crazy Conservative Party," he announced gleefully at one point as if he was in a position to write off anything.
Then came the panel again to read the entrails of the interview. Nick the mayor of Porirua liked Cunliffe. Fran the redoubtable Herald columnist didn't much.
Raymond the political scientist wasn't sure.
And still the tweets came.