Game of Thrones actor relishes switch to big-screen action with Pompeii movie.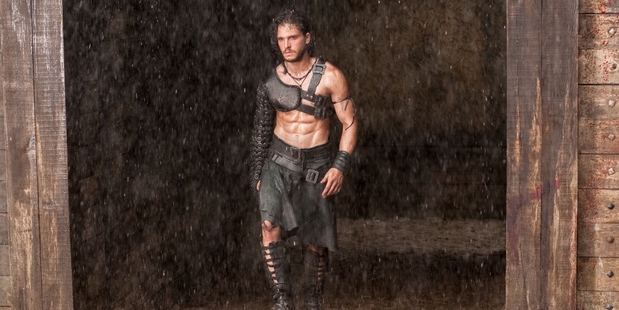 In his latest film, Kit Harington swaps the icy wastes of Game of Thrones for the hot lava and volcanic ash of Pompeii.
The role required him to beef up substantially to play a 79AD gladiator, and involved a restricted diet and an intense four-week boot camp in the lead-up to filming.
"I really got into the whole working-out thing in this and ended up looking a bit like that," he says, waving to his ab-tastic Pompeii poster shot.
"It was great fun, but when it finished I wanted to go and eat quite a lot." His food of choice after eating just 1800 calories a day? "Pizza, it was pizza and a burger."
Although Pompeii is Harington's first major starring movie role, he says it wasn't daunting to step out of the Game of Thrones ensemble.
"One of the reasons I wanted to do Pompeii was it was a leading role in a great big action movie and I was stepping into territory I already kind of knew, with the sword-fighting, the action elements of it and characters not so different from what I've been playing on Thrones," he says.
In Pompeii, Harington plays Milo, a gladiator with nothing to lose, until he meets Cassia (Aussie Emily Browning), who's set to marry a corrupt Roman senator (Kiefer Sutherland).
He says Milo has some similarities to Jon Snow, in that they're both outcasts. "[But] I think Milo, he's given up, really. All he wants to do is kill people ... he's driven by rage and bloodlust. Jon's very different from that. Jon's driven by duty and honour and he's grown up in a castle as a nobleman."
Before shooting on Pompeii began in Toronto, the filmmakers set about designing and meticulously creating accurate sets including an opulent villa, the Pompeii streets, the amphitheatre and the forum.
He says much of the film, from how the volcano exploded to Pompeiian society ("it was kind of a Las Vegas of its time") is as realistic as possible.
Director Paul W S Anderson wanted the movie to be so realistic he actually sent clouds of simulated smoke, dust, fire and debris over the actors during filming.
- AAP