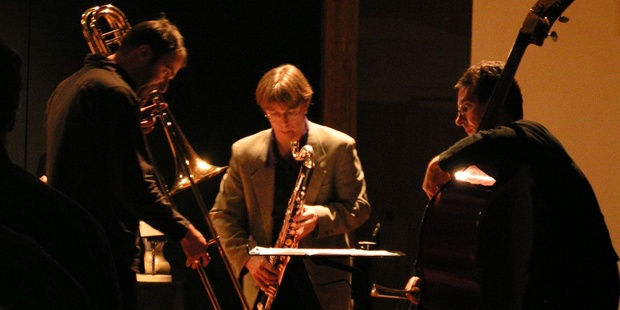 For those into contracts, 175 East delivered firm promises for its Sunday concert, chalked up on a blackboard, reading "75 min - lockout applies".
In fact, the hour and 50 minutes in Q Theatre Loft was the most testing and trying presentation in the group's 18-year history.
Fine musicians such as Luca Manghi, Donald Nicholls, Andrew Uren, Alex McDonald and Katherine Hebley picked up their instruments just twice.
John Lely's Symphony No 3 (The Parsons Code for Melodic Contour) had them playing random chords, following vague instructions to go either up or down in pitch.
Eighteen minutes proved a long haul, any harmonic fortuities being undercut by too many stuttering entries.
Ending the concert, Samuel Holloway aired his new Things, an attempt at sustaining a 207-page score, with one chord/note per page, for 50 minutes.
The Mahlerian timescale did not result in compatible rewards. The flutter of pages, fun at first in a Tan Dun sort of way, became tedious after a few turns.
One passed time by imagining an isolate flute and clarinet third morphing into Lilburn's Aotearoa, or enjoying the shiver of momentum in the quavering of David Kelly's electronic keyboard.
The two other English offerings were limp affairs.
James Saunders' At least one hundred devices being turned on and off was just that, with the musicians roaming around buzzing, whirring appliances.
Percussionist Sam Rich was featured in two solo turns.
The first, by Tim Parkinson, with the literal title of Snare Drum, may have been "written around a drum" but left so much sonic potential untapped. This was not so with Eve de Castro-Robinson's 2001 Whisper.
Player and instrument were one in this lovely piece. A spotlit Rich cradled the drum, as a father might a child. Tapping and stroking graduated to otherworldly harmonics created by breath across the snares. Alas, this exquisite miniature deserved better company.