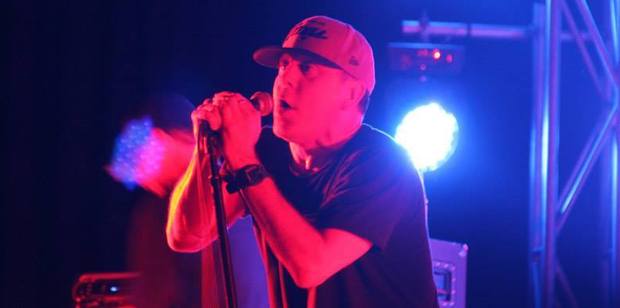 It has been a long time between drinks for Pennywise fans. The southern California four-piece last toured here in 2006, despite making it Australia a number of times in the past decade.
Before the skate-punk of Pennywise, the solid crowd at Auckland's Logan Campbell warmed up on a feast of Kiwi punk, Florida ska and Illinois pop punk.
I missed Auckland band PCP Eagles, as did many no doubt due to their 6.15pm timeslot, but arrived just in time to see Sommerset, who reformed for a one-off reunion performance.
Despite the time away from the stage (they broke up in 2005 but last performed publicly about five years back) Sommerset hit the ground running, ploughing through songs from their three albums, finishing with fan-favourite Fast Cars and Slow Guitars.
It took a few songs for the crowd to get going once Less than Jake took to the stage (despite the ska-punkers last playing Auckland in 2003), but once they did it was mayhem. The Gainesville, Florida boys pumped a lot into their 45 minute timeslot, including old favourites Dope Man, History of a Lonely Town and Johnny Quest Thinks We're Sellouts, but really could've done with a longer slot as the crowd were left craving more.
The short set had everything; two strangers named Emma and Josh making out on stage, a failed stage dive, skanking circle-pits, furious horn playing, and a seizure in the moshpit. Vocalist Chris DeMakes promised the band would return in another 10 years. Hopefully it's a bit sooner.
In comparison to the mayhem of Less Than Jake, pop-punk veterans Alkaline Trio provided some reprieve, as there was less chaos in front of the stage during their 45 minute set. Alkaline Trio have a cult following in New Zealand and were here just four years ago, playing at metal-punk festival No Sleep Til at the ASB Showgrounds (within the same complex as the Logan Campbell).
Despite only being a three-piece, Alkaline Trio made a hell of a noise, as did their fans, particularly to anthems Private Eye, Mercy Me and I Wanna be a Warhol.
After a short hold-up Pennywise arrived on stage to a roaring reception. Pennywise stuck to the old favourites, with vocalist Jim Lindberg proclaiming that "no one likes the new stuff anyway" (a possible dig at the Pennywise's last album with replacement vocalist Zoli Teglas).
1999's Straight Ahead got a good going over, as did earlier albums Full Circle and About Time, a few covers (Black Flag's Gimme Gimme Gimme, Ben E King's Stand by Me and Men at Work's Down Under were thrown in for good measure), before the night ended how all Pennywise shows do, with the rousing sing-along Bro Hymm.
The acoustics at the Logan Campbell Centre can be a bit hit and miss, depending on where you're standing. The venue wasn't packed, however the queue to get drinks was atrocious and another bar was solely needed.
There may be a fewer mohawks and studded leather jackets then there were a few years back, but last night was evidence there are still a few Kiwi punks about who want to party like its 1999.
What: Pennywise, Less Than Jake, Alkaline Trio, Sommerset
Where: Logan Campbell Centre, Auckland
When: Thursday, March 6