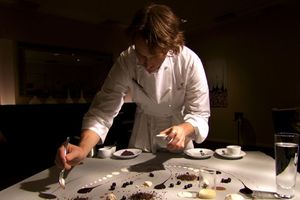 The casual and approachable style of this modest documentary, which delivers slice-of-life portraits of three very different American restaurants, is at once its appeal and its shortcoming.
Director Levy, making his feature debut, has plainly gathered far more material than he knows what to do with and never really finds the connecting thread on which to peg a coherent story.
The glimpses it does provide behind the scenes of the establishments that it profiles are scarcely revelatory: the fact that cooking is a form of expression - of love, tradition and self - as well as bloody hard work may come as no surprise.
At Breitbach's Country Dining in rural Iowa, he finds a 150-year-old eatery serving steak, fried chicken, raspberry pie and community spirit; regular customers have keys and take turns opening up and although it's located in a town of 70 it often does 1500 covers on a Sunday.
At Alinea, a Michelin three-star place in Chicago, where chef Grant Achatz's kitchen extracts and captures aromas of pine needles and tobacco to turn out 18-course degustations for $250 a head, it can take five people 12 hours to create one bite: "It's absurd," he says, and it's hard not to agree.
At the other end of the scale in Arizona, Francisco and Gabby Martinez struggle to keep a home-style Mexican place afloat.
The surfeit of footage leads to moments of unconscious humour. The editing of one frantic scene in Breitbach's changes the eponymous proprietor's clothes several times in 10 seconds.
There's a lot to like in the people we meet, who speak with passion and humour. But good restaurant documentaries have become quite common of late, particularly in festivals, where Jiro Dreams of Sushi, A Matter of Taste, and the French Step Up to the Plate have recently impressed. This is not in the same league.

Director: Joseph Levy
Running time: 92 mins
Rating: G In English and some Spanish with English subtitles
Verdict: More appetising than satisfying.