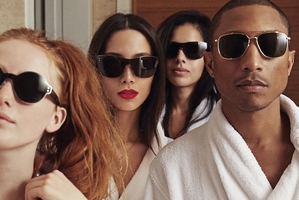 Just as it surely takes Pharrell Williams a great deal of effort to look as effortlessly cool as he does, it must take huge effort to sound this effortlessly snappy.
He has described his second solo album (his last was 2006's In My Mind) as "a celebration of women", and indeed he seems to have plenty of genuine love for us, but more than that, it's a spirited, lightning in a bottle-esque, pop adventure, as jaunty as his trademark oversized Buffalo hat.
For a super-producer with seven Grammys and three global smash hits in the past 12 months - Get Lucky with Daft Punk, Blurred Lines with Robin Thicke, and his own Happy - a solo release was always going to come with great anticipation. Perhaps even more so, because after 20 years in the job, many might have supposed the dude behind the Neptunes and N.E.R.D. would be a little too far along to polish up his pop star badge once more.
But the smoothest man in the music biz has brought the goods with G I R L, combining his funk, hip-hop, Motown, and even world music inspirations, with some Michael Jackson-worthy riffs, Marvin Gaye grooves, and his own honeyed vocals.
Six-minute opener Marilyn Monroe seems to have taken a little leaf out of Justin Timberlake's book, with some beautiful string arrangements courtesy of Hans Zimmer, and lyrics which riff on the idea that he's not interested in an icon like Marilyn or Cleopatra, he's into a different kind of girl.
Justin Timberlake jumps in on Brand New - a good contender for his next No 1 single, which sees the pair winding urgent lines towards swooning falsetto, as they croon about how the love of a good woman makes you feel brand-new, horns punching through to great effect. It's a sunny, sweet number which shows off Pharrell's charming side, and throughout G I R L he's mostly cheeky, flirty, and coy, but that doesn't mean he's eschewed all heavy breathing and animal instinct. Hunter and Gush (pronounced "Goosh") are still full of dark grooves, and sly (or not so sly) winks. "Take off your halo wings" he implores, "I can make you fly."
Innocent enough. "Do you want to get dirty girl? Light that ass on fire," is less so, but that's as raunchy as it gets.
And then you get Happy, which might be the cleanest, most positive track he's ever made, but somehow remains unbelievably listenable. Sure, simplicity is part of its appeal, but it's also a beautifully intricate web of effervescent retro soul pop.
The second half of the album gets a little more experimental, leading with Come Get It Bae [sic] featuring Miley Cyrus which features almost tribal drumming, vaguely country-tinged guitar licks, and makes Miley sound far more bluesy than we usually hear her. It might be the best thing she's ever done, and it's certainly a surprising album highlight.
Gust of Wind sees him heading back to loved-up charmer territory. Jubilant in the chorus, cruisy throughout, he mixes Daft Punk's robotic voices and deep bass bop, with dancing string section, and some Get Lucky-esque guitar. Lost Queen sees him combining African-style humming with characterful percussion, in a loopy, but hypnotic love song (the "brmm brmm" punctuation is a winner).
Know Who You Are with Alicia Keys feels a touch paint-by-numbers, despite its genre mash-up of R&B piano ballad and reggae skank, but final track It Girl sees him out on a Prince-like jam, all cowbells and guitar flair, and will surely be a live favourite.

Verdict: Mr Smooth is back, and he's celebrating.
Click here to buy G I R L by Pharrell Williams.
- TimeOut