Li-Wei Qin makes a welcome return. Li-Wei Qin talks of his enthusiasm for great players of past years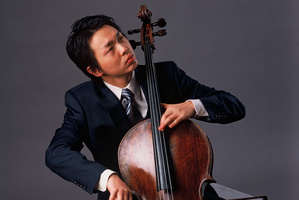 Li-Wei Qin is a frequent visitor, most recently premiering Ross Harris' Cello Concerto with the Auckland Philharmonia Orchestra two years ago and justifiably excited about its imminent CD release on Naxos Records.
The Australian cellist joins the APO for the Elgar Concerto on March 13 for Home Fires, the first of three concerts commemorating the centenary of World War I.
This is a familiar score; Li-Wei has recorded it twice - with the Adelaide Symphony Orchestra in 2005 and last year with the London Philharmonic - and has always been struck by its Englishness.
"I'm glad I lived in England for so long," he says.
"One really has to understand the culture and the English way of life to get into the soul of this work."
He outlines the technical difficulties of its second movement ("When I give it to my students, I tell them it has to be practised at hospital speed") but insists that the main challenge is to unlock the colours of this autumnal score.
"This piece demands so much in terms of imagination and colour, especially in the adagio. If one simply follows the dynamics as written, it will feel a little dull and you might get the impression that there aren't enough notes in there."
Inevitably, the name of Jacqueline du Pre comes up and Li-Wei found her legendary connection with the work inescapable when he was in Britain.
"I first played the concerto with the BBC Symphony Orchestra 13 or 14 years ago. The concertmaster came up to me afterwards and told me he was also concertmaster when Jackie played the concerto. Thank God he told me that after the performance."
The great cellists, from du Pre and Rostropovich to Piatigorsky and Casals, float through our conversation and Li-Wei says he has an enormous respect for the greats of the past. "When I was young I was hungry for whatever I could hear, on LPs, cassettes and CDs. Nowadays, students are just as hungry and so many wonderful performances are much easier to access on YouTube and the internet."
Though some preach caution when it comes to checking out the interpretations of other artists, Li-Wei is more practical.
"There are those who feel that you shouldn't listen to recordings because it will interfere with your reading of the score. I feel that it's fine as long as you listen to a lot of them and don't get biased by hearing just one player."
Li-Wei was born in Shanghai but moved to Australia at the age of 13 and, these days, is based in Singapore for winter and London for summer.
He values renewed contacts with China - this year alone he has played Schumann in Hong Kong, Brahms in Guangzhou and, the evening of our conversation, Dvorak in Beijing's National Centre for the Performing Arts.
"With the last 20 years of economic growth China has started to develop culturally. That's a logical step with the expansion of the middle class, but the difficulty is that the standards are not as high as they are in Europe.
"When I play Dvorak in a few days time it won't be with the London Philharmonic but with an orchestra that has an average age of27.
"Yet it's not a youth orchestra in either name, workload or approach.
"These musicians are so eager to learn and that excites me very much."
Li-Wei gives out some disarming statistics: Beijing's NCPA mounts 500 concerts a year and there are probably more piano students in China than the entire population of New Zealand.
"So much is going on. European orchestras are flying in every week and, for me, it feels like riding a wave, an amazing tsunami of culture rushing into China.
"I'm very proud to be part ofit."
Performance
What: Auckland Philharmonia Orchestra
Where and when: Auckland Town Hall, March 13 at 8pm