Oscar front-runner Jared Leto underwent a serious transformation for his role in Dallas Buyers Club. He and director Jean-Marc Vallee talk to Helen Barlow.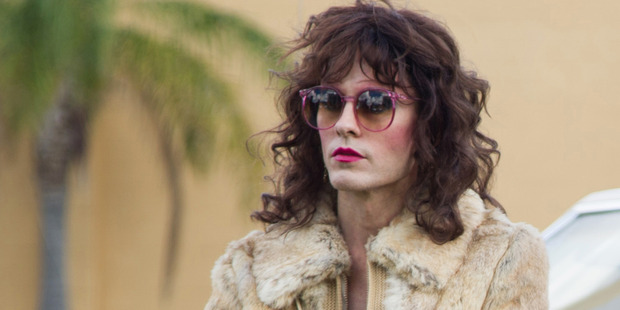 The first time Dallas Buyers Club director Jean-Marc Vallee set eyes on Jared Leto via Skype, the actor was in drag as Rayon, the transgender prostitute he would go on to play in the movie.
"He had on a wig, a dress, was putting on lipstick and was hitting on me and he was talking with a girl's voice," Vallee recalls. "When he arrived on the set he got off the plane dressed as a woman, he went to the hotel as a woman, he never got out of the character. He never introduced himself as Jared, never talking with his own voice, even with Matthew. Everyone met him for the first time when he came to the Toronto Festival for the film's world premiere."
Nobody could deny that Leto, now a youthful 43, is beautiful. After six years away from movies and having established himself as a musician as the frontman of band Thirty Seconds to Mars, he felt free to return and do whatever he wanted to in movies. If former beefcake Matthew McConaughey could lose 23kg to play the movie's leading man, Ron Woodroof - who sold unapproved Aids remedies to fellow victims after his own diagnosis in 1986 - Leto could lose weight and transform himself, too.
"I thought that if Matthew's willing to bet on this, I'm willing to join him," Leto continues. "I knew he'd made a commitment already and was losing weight, and of course I'd done that before for Requiem for a Dream and I'd gained weight as well [for Chapter 27 as John Lennon's murderer, Mark David Chapman].
"I thought Matthew was incredible, because I'm sure he doesn't have to work very much, I'm sure he's filthy rich and he can sit back and just enjoy his family. But he really has a desire to say something and to do something great, and I respect that."
Acting-wise, Dallas Buyers Club has been the high point of Leto's screen career. After winning the Screen Actors Guild award for best supporting actor, he's the front-runner in the same category at the Oscars, as is McConaughey in the best actor category.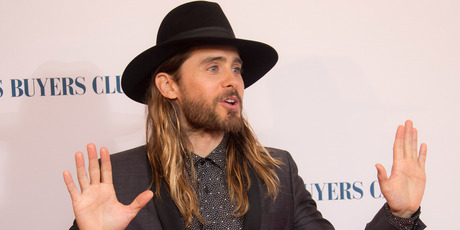 The pair's accolades have helped propel the long-gestating movie, which was made for less than US$5 million over 27 days, into the spotlight.
While McConaughey had four months of weight loss to conjure Woodruff's gaunt appearance, Leto had only three weeks to drop to 53kg to portray the Aids-afflicted Rayon.
"I just stopped eating," he admits, noting that he didn't seek out the assistance of doctors.
Wasn't that dangerous?
"Yeah, but a doctor is going to tell you to eat and I'd done it before. The weight loss is interesting because it changes you inside and out. It changes the way you talk, the way you laugh, the way you move your body, and that's great. But I was really weak. Incredibly, Matthew had a lot of energy. I don't know how he had so much energy."
Vallee, the effusive French Canadian director of C.R.A.Z.Y., The Young Victoria and Cafe de Flore, allowed his actors a lot of leeway.
"I remember very well how the days were hard and I remember the moments with these two actors, these two gorgeous men looking terrifying and just having every emotion so right behind their skin. We never knew what they were going to do next - and not only in a good way, but sometimes in a scary, is-there-security-around way. I was totally inspired."
While the emotional part of the role was fraught for Leto, donning high heels and waxing his body was also a challenge.
"Being a woman is not easy," notes Leto. "It takes a lot of work. I feel your pain! I had to have every single hair removed. Whisk! I shaved off my eyebrows a couple of times and I wondered if I was going to be like one of those women who lose their eyebrows forever, painting them on for the rest of my life. Then there were the heels, size 12. I have to say I was a natural; I picked it up very fast.
"Though what I especially liked about Rayon is that she had a great heart. She was funny and fun and kind and passionate and cared about other people. I can be really intense and work really hard and drive towards my goal, but she was the sort of person to stop and ask somebody else how they're doing. It's a great thing to live in that skin and to try to bring some of those qualities into my life."
Leto concedes the reaction to his performance has been incredible. "I've never had such effusive support and praise for anything I've ever done in my life. I had no expectations, having not made a film in six years. I made this little movie, then went back travelling and touring the world - and this happens. I can't believe it."
Who: Jared Leto
What: Dallas Buyers Club
When: In cinemas now
- TimeOut