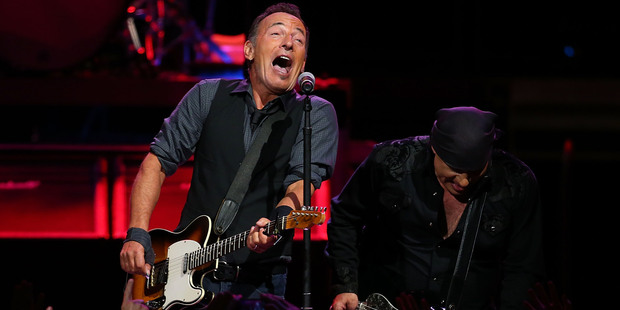 Hayden Donnell is a Bruce Springsteen superfan who has travelled the world to see his shows. Here are the five songs he'll be shouting for when the Boss starts taking fan requests on Saturday night.
Incident on 57th Street
Born To Run launched Springsteen as an international star. Incident on 57th Street proved he was a songwriting genius. The 1973 classic is not played that often but the nearly novel-length tale of two doomed lovers is one of Bruce's best.
Brilliant Disguise
Springsteen was enduring romantic and musical turmoil when he wrote Brilliant Disguise, and it shows. Whereas many of his previous songs were written through the eyes of characters, Brilliant Disguise's account of a man's estrangement from his lover and himself feels personal. The song was a single on Tunnel of Love but is far from a live staple.
If I Should Fall Behind
One of Springsteen's best songs, buried on one of his worst albums. If I Should Fall Behind is a beautiful ballad about the hard road love travels. Springsteen's lyrics eschew treacly romance for realism - but that only makes the song's tender moments seem more heartfelt. If only the rest of Lucky Town were as good.
Terry's Song
This one was written following the death of Springsteen's long-time assistant, Terry Magovern. The simple guitar-and-harmonica-led folk song is a moving tribute to a cherished friend. Springsteen has played it live only twice. (Skip to 5:19 on Devil's Arcade - Terry's Song is a hidden track on Springsteen's album Magic).
Hunter of Invisible Game
Probably the most realistic suggestion. Hunter of Invisible Game is the best song on High Hopes. Its vision of future redemption is beautiful, but the song might prove one quiet, slow number too many for what will undoubtedly be a pair of raucous Springsteen sets.
Today's playlist features those tracks and more, curated by nzherald.co.nz reporter Hayden Donnell. Follow nzherald on Spotify for more playlists.
- nzherald.co.nz