Chris Philpott thinks the Heroes reunion is a terrible idea. Here's why.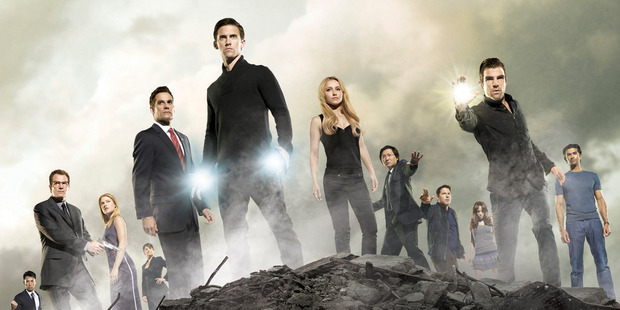 The announcement that NBC is reviving superhero drama Heroes for a brand new season absolutely floored me.
The show will return for 13 episodes under the title Heroes: Reborn, with a brand new cast of characters, under the watchful eye of creator Tim Kring. NBC are referring to it as an "event series".
I can only assume they mean "event" in the "let's reform Limp Bizkit" sense of the word.
If I may borrow an Ian Malcolm-ism, bringing back Heroes for a thirteen-episode event series is the worst idea in the long, sad history of bad ideas. For that matter, doing anything with the Heroes franchise is a spectacularly bad idea.
I don't believe there is anything of value left in the franchise. The first season was good but Heroes quickly declined from there, each season delivering diminished returns, even as anticipation for the show waned alongside it. By the final season, the show had turned into a muddled parody of itself, set adrift on a sea of terrible narrative decisions.
Furthermore, I think creator Tim Kring's production history shows that he struggles with long-form storytelling. Kring's most consistent effort to date is Crossing Jordan, a weekly procedural with a new case almost every episode. Heroes went off the rails in Season 2 and never regained the magic that made that first season a hit.
Then there is Touch, the Kiefer Sutherland supernatural drama that was so bad it merits its own paragraph in this blog post. If you're going to tune in for Heroes: Reborn, you have to be comfortable spending thirteen hours with the guy who wrote Touch. If you're a fan of Touch, I hope you manage to get the help you desperately need.
Kring, as a series writer, is guilty of trying to be overly profound, while his stories are convoluted, complicated to the point of complete confusion, and often head in directions that simply don't make sense. Kring is the TV equivalent of M Night Shyamalan. Not the cool Sixth Sense/Unbreakable version of Shyamalan, the After Earth/Happening version.
Worse, Kring probably thinks I meant that as a compliment.
I haven't even mentioned the fact Heroes is one of the highest profile failures of the trend towards supernatural serial dramas. With the exception of hit series Lost, the sub-genre is essentially a list of shows that started well but lost audiences after a mere handful of episodes - shows like FlashForward, Invasion, and The Event.
Like Heroes, most of the shows were cancelled amid bad reviews and poor ratings returns. To say there is very little audience demand for shows like this is really understating the situation.
In fact, recent viewer trends show that we like our superheroes with a semblance of familiarity and an abundance of action; think Arrow or Agents Of SHIELD. As you can probably guess, Heroes has neither of these things - even that decent first season boasted an ensemble of unknown characters and infrequent action sequences.
Even if you think Heroes can be salvaged into an enjoyable mini-series, there are still signs that it just won't work.
Perhaps the biggest problem is that serial dramas made by the American broadcast networks - the likes of NBC, CBS, ABC and Fox - tend to fail miserably, while event series have turned into something of a fad, thanks to the ratings success of Under The Dome and this year's revival of 24, titled 24: Live Another Day.
The problem is that the free-to-airs lag far behind the cable networks - HBO, Showtime, AMC, et al - when it comes to producing quality serial dramas. Any attempt to create a compelling serial drama will be met with comparisons to the likes of True Detective or The Walking Dead or American Horror Story, and ultimately found wanting.
Look, I was a really big fan of the first season of Heroes. I even stuck with it right through to the conclusion of that awful Season 4. I have no desire to go back to anything resembling that world, whether it has a new cast or not. Viewing habits have moved beyond Heroes. And a revival is just the latest attempt by NBC - along with giving shows to Michael J Fox and Bill Cosby - to try and regain the glory of past ratings victories.
A new season of Heroes isn't going to do that. I think we're staring down the barrel of a true television disaster.
* Do you think Heroes: Reborn sounds like a good idea? Or do you agree that it won't work?