Ukrainian pianist Alexander Gavrylyuk will play Rachmaninov's romantically melodic First Concerto in Auckland.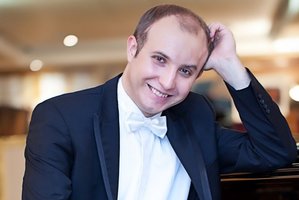 Two years ago, Alexander Gavrylyuk opened Auckland Philharmonia Orchestra's main concert series with a glittering account of Prokofiev's Second Piano Concerto.
He'll be back next Thursday, this time with Rachmaninov's rarely heard First.
I catch up with Gavrylyuk in Sydney, where he is practising Mozart in the back of a Steinway shop. And why not? This is his preferred brand and "simply the most versatile piano around", he shrugs.
"It has such a range of colours, and a real power behind them," he adds. "An iron fist in a velvet glove!"
Born in Ukraine, the 30-year-old pianist was living in Australia in 1999 when he won the Horowitz International Piano Competition, the first of many such honours.
"I regard myself as more Australian than Ukrainian," he tells me.
"I enjoy playing here because audiences are always so open to music."
Gavrylyuk has experienced formidable triumphs across the Tasman, including a complete Prokofiev cycle with the Sydney Symphony Orchestra under Vladimir Ashkenazy.
Was it daunting to play under the baton of one of the world's great pianists, I ask him.
His laugh has a slight edge when he admits to being "so nervous before our first rehearsal".
"However, Ashkenazy was very easy to work with. It turned out that he's the sort of person who infects everyone with his positive and healthy attitude to the music.
"He would never tell me directly when he thought that something could be done differently," Gavrylyuk explains.
"Instead, he would give me his thoughts on the influences and inspiration behind the composer's ideas. This would immediately change my perception of the music and, as a result, the performance would be different."
Don't be surprised if Gavrylyuk is beaming on stage next week, as this pianist enjoys the concerto experience.
"I love working with conductors and orchestra," he enthuses.
"An orchestra is like a live organism. It reacts to the conductor and the soloist and then, suddenly, there's a special chemistry happening on stage. Sometimes the relationship is impeccable, sometimes it's dynamic," he muses. "But sometimes it lacks balance.
"It's always a learning experience trying to find the best possible connection between yourself and the orchestra and conductor."
Gavrylyuk spent his first nine years in Ukraine. It "wasn't exactly Europe in those days," he reflects, with a hollow laugh.
"I was surrounded by Russian culture and music, and experienced the legendary discipline of the Russian piano school."
Looking back on these times, he now talks of pluses and minuses.
"There was a very rich and passionate love for music, to the point of self-sacrifice," he sighs. "No matter what might happen in history, music is always going to survive in that part of the world!"
He has no time, though, for what he describes as "a dictatorial style of teaching that can be counter-productive with vulnerable young minds. It's so important to give young musicians the freedom to develop their talents and personal endeavours without imposing ideas on them."
At the moment, Gavrylyuk is immersed in Russian music, giving Aucklanders Rachmaninov next week and, a month later, playing all the composer's concertos with the Vancouver Symphony Orchestra.
He spins a few curious facts about the 1891 First Concerto. "It's a Russian take on the Grieg Piano Concerto," he laughs, pointing out that, while Rachmaninov was composing it, his cousin, Alexander Siloti, was practising the Norwegian composer's work in the next room.
For all that, Rachmaninov's musical signature is unmistakeable. "It's a combination of so many things," Gavrylyuk observes.
"There are long, singing melodies and the feeling of being in an ocean of emotion; and yet it never loses that very individual intimacy and fragile beauty."
Rachmaninov
What: Auckland Philharmonia Orchestra
When and where: Auckland Town Hall, Thursday, 8pm