After a successful RNZB tour, the artistic director is turning his hand to TV, writes Linda Herrick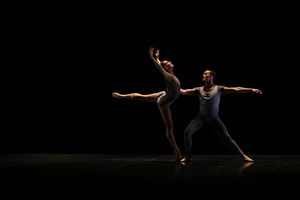 Having led the Royal New Zealand Ballet through a successful four-city tour of the United States, artistic director Ethan Stiefel is staying on in New York for 10 days to start pre-production work on a new TV drama series, Flesh and Bone, created by Breaking Bad co-executive producer Moira Walley-Beckett.
Stiefel, a former American Ballet Theatre principal dancer who joined the RNZB in 2011, will be consultant and choreographer for the series, about a troubled young dancer who joins a top-flight New York ballet company. Flesh and Bone, being made by the Starz cable network, will star Sarah Hay of Black Swan fame in the leading role, joined by former American Ballet Theatre principal dancer Irina Dvorovenko, American Ballet Theatre soloist Sascha Radetsky, Ballet Arizona company dancer Raychel Diane Weiner and Emily Tyra (of Boardwalk Empire). The series will be filmed in New York.
"It's a great opportunity for me, to continue to grow creatively and artistically," says Stiefel, on the phone from New York as the RNZB wound up its US tour last weekend. "I also think it is cool for the company as well."
More than 16,500 people attended the ballet company's tour of the US, which saw them perform in Los Angeles, Santa Barbara, Minneapolis and New York. In New York, he says, the dancers got to experience "a bit of a winter wonderland".
"It snowed in the early morning. I personally like snow but when it starts melting it gets a bit slushy and you have to take much more care. But it's been fun because a lot of the dancers have never seen snow. To see snow in New York is getting the full winter experience."
Stiefel, talking to the Herald after opening night in New York's Joyce Theatre, says there was a great turnout for the programme, a mixed bill showcasing 28 Variations on a Theme by Paganini, choreographed by Benjamin Millipied (Black Swan), Of Days, choreographed by New Zealander Andrew Simmons, and Banderillero, by Javier De Frutos.
"On opening night there were plenty of guests from the ballet world - American Ballet Theatre, New York City Ballet - as well as various directors and members of dance organisations in the house. The audience response to the programme was warm and everything I heard afterwards felt good about the show, that it was a programme that showed off the strength of the dancers."
New York Times reviewer Brian Seibert said of the Joyce Theatre show: "I don't know what these dancers looked like before Mr Stiefel got his hands on them, but they're spruce now, with pleasing manners and crisp classical technique."
The advantages of the tour - the first time the RNZB has visited the US in two decades - for the dancers have been manifold, he says. "You have to look at the professional opportunity, of being to perform in both Giselle, a timeless, well-known ballet, then move on to the next repertoire. Performing in major venues gives them a real sense of being out there on the world stage and belonging to the dance community in a very broad way. "Personally, and what I think is cool, and we talked about it at the beginning, is that a lot of the dancers have never been to the US and they have had all those different experiences.
"I think it is very important to tour. First of all, just to speak in a very literal way, New Zealand is located where it is so it is important the company feels a real connectivity. But also our priority is to share what is happening culturally and arts-wise in New Zealand and get out on the road."
The tour has also been important to Stiefel on a personal note. He has been able to share the experience with his fiancee, Gillian Murphy, American Ballet Theatre principal and guest dancer with the RNZB. "Audiences are familiar with her work across the US and it was a beautiful thing to see her make her debut in the title role of Giselle in Los Angeles. And I have to say it is nice for Gillian and I to go home together and spend time in our apartment in Manhattan that we share so much of our time together in and sleep in our own bed. That's where I am right now."