Kevin Spacey excels in his role as an awful man doing compellingly awful things, finds Nick Grant.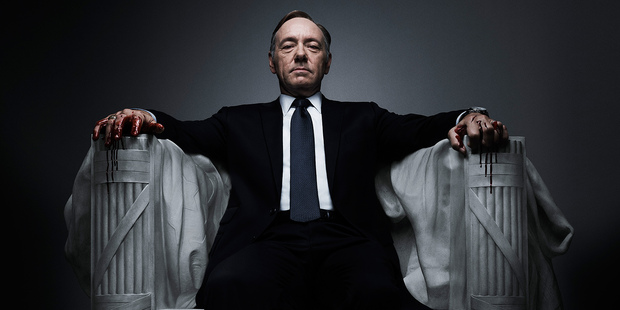 US series House of Cards arrives on TV3 tonight with an aura of prestige rivalled only by the sulphurous stench of ruthless self-interest that lingers in its lead character's wake.
As played by Academy Award winner Kevin Spacey, US Congressman Francis Underwood is a modern-day Machiavelli who merrily manipulates people and events to accrue personal power and, one suspects, simply amuse himself. He is also prone to making acerbic fourth-wall-breaking asides to the audience, usually about the idiocy of whomever he happens to be talking to at the time.
There's something intrinsically cold-blooded about Underwood even when he's declaring his devotion to his wife (Robin Wright, who has won a Golden Globe for her performance).
"I love that woman. I love her more than sharks love blood," he drawls, looking like he wouldn't mind a pint or three of the red stuff too as he fixes the viewer with a dead-eyed stare.
All of which comfortably locates Underwood within television's ongoing obsession with depicting awful men doing compellingly awful things, although the first iteration of Underwood actually predates Tony Soprano, Walter White, Don Draper et al by a good decade or more.
That's because this House of Cards is an adaptation of a UK series of the same name, based on a book by a former advisor to Margret Thatcher who earned the epithet "Westminster's baby-faced hit man".
In 1991, Ian Richardson was awarded a Bafta for his portrayal of monstrous Member of Parliament Francis Urquhart, with whom Underwood shares his duplicitous disposition.
The original UK series also scored an Emmy, something the US version trumped last year with three Emmy wins.
That hat-trick of Emmy Awards - and its six other Emmy nominations - is an important part of House of Cards' pedigree.
What is truly significant about the awards, though, is that they represent the first time a series made specifically to screen online has received the US television industry's ultimate accolade.
House of Cards wasn't the first foray by internet streaming service Netflix into the arena of original content. That distinction belongs to comedy Lilyhammer, about a mobster (played by The Sopranos actor and Springsteen sideman Steven Van Zandt) who relocates to Norway after squealing on his associates.
With the participation of Hollywood A-listers Spacey, Wright and director David Fincher, however, House of Cards was an emphatic statement of the company's intent to be a major player in the rapidly evolving TV market. When Netflix first announced it would spend US$100 million on the first season and release all 13 episodes on the same day, it was seen as a gamble.

It has paid off handsomely. Season one resulted in a surge of subscriptions and the second season recently debuted in the US to soaring viewership. A third season was confirmed earlier this month.
The series has enjoyed a generally positive critical reception, with some reservations. "Sensually, visually, House of Cards is a pleasure," opined the New Yorker's Emily Nussbaum. "Yet, in the days after I watched the show, its bewitching spell grew fainter - and if House of Cards had been delivered weekly I might have given up earlier."
Clearly anticipating this risk, TV3 is having a dollar each way. It is screening it in single episode instalments each Sunday and making all 13 episodes available from 11.30pm tonight via rebranded on-demand service 3NOW.
To paraphrase Underwood, that's a gift horse those with a penchant for binge-watching are more likely to throw a saddle on than to look in the mouth.