Martha Davis always manages to find the funny side of life says Barney McDonald.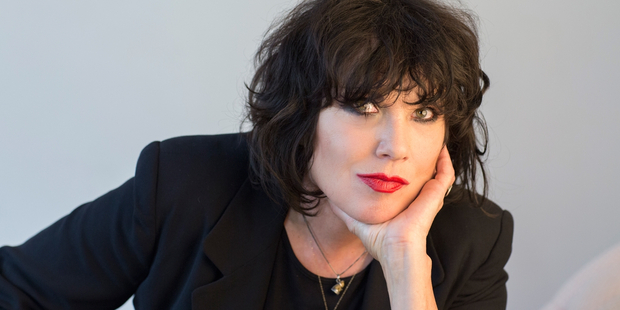 The Motels' singer Martha Davis has always seemed cool without trying, purely artistic without pretension, self-aware without being self-conscious.
Maybe it's her trademark shock of tousled brunette hair, these days tamed into a less unruly bob. Or the way she used to sing and smoke at the same time on stage, using her cigarette as a powerful prop the way Hamlet turned poor Yorick's skull into a talisman of intensity.
That sense of humour has helped her survive relatively unscathed through four decades in the music business.
Seeing the funny side of things has kept her upbeat even when the chips were down, and healthily focused on her musical future rather than aspects of the past. "It's a tough biz, which is why I have to have a sense of humour," she laughs. "To me, a sense of humour is the new beauty. You gotta have it because it just makes everything so much nicer."
After years in the musical wilderness in the 1970s, only to be signed by Capitol Records then disband, Davis and lead guitarist Jeff Jourard reformed The Motels in 1978, re-signed with Capitol then released the band's eponymously titled debut album. The record failed to ignite the charts in America - largely down to its deliberately garish front cover - but the single Total Control did become a breakout hit in Australasia, reaching four in Australia and 11 in New Zealand.
For Davis, the pressure to succeed was immense, especially as a beautiful lead singer in the days of disco and new wave.
Deborah Harry was fine using her looks to promote the band and having her nickname Blondie become her band's name, but Davis was at pains to be taken seriously as a songwriter. She didn't want to be a pin-up to be pushed and prodded by the record company.
"Well, I think it's always perplexing to be in that situation," says Davis, 63. "Thank God I didn't do it too young. I really fear for the lives of the children who go into this racket when they're so young.
You know, the Miley Cyruses and the like. It's really the kiss of death. Poor Justin Bieber. I mean, I think that kid's got some talent, but God knows what's going on with him.
"I always hark back to Phil Spector, who was a millionaire by the time he was 19, and in those days a million bucks was probably like half a billion in today's money. And look what happened to him. He went completely insane."
Although many younger New Zealanders were first introduced to Total Control through a Subaru commercial in the early-2000s, that song continues to endure. It hasn't made Davis a tidy fortune these days (she sold the publishing rights to a fledgling multimedia company called DreamWorks back in the 90s) but it at least kept her reputation and legacy alive. Her vocal is phenomenal, milking every ounce of angst and bitterness from the words, and several YouTube clips from the 80s show how theatrical and erotic her performance of the song could be.
"Funnily enough, Total Control is probably one of my best examples of an amazing collaboration because I wrote that song as a punk song," laughs Davis, singing the lyrics really fast to accentuate her point.
"I was angry, I was hurt, the relationship had gone into the shitter. I was not a happy girl.
But Jeff was playing this little chord progression and I just took those lyrics and put them on top of that.
"To get all that emotion, anger and frustration on this empty track, just so sparse and lean, it made the tension 10 times more powerful than if I had screamed it. If I had done it as a punk song it would have just come and gone."
Besides playing at the 50th anniversary of LA's infamous Whiskey-A-Go-Go rock venue the night of her birthday on January 19, another recent highlight for Davis was the release of The Motels' third album, Apocalypso, 30 years after it was recorded.
Rejected by Capitol in 1981, it was finally released in 2011 by new rarities label Omnivore, complete with original artwork featuring a rare sexy cover photo of Davis.
"That picture took a lot of blood, sweat and tears," she laughs.
"I got the idea for that because I loved the Roxy Music covers and I thought if I'm gonna be on the cover I'm gonna go for it. I'll be sexy-cool.
"And I wanted cleavage. So I duct-taped my breasts together. Then I had to stand between two rows of flames because this was before Photoshop. Those are real flames.
And guess what duct-tape does when you stand in flames? It melts to your flesh!
"It was horrible, so horrible," she laughs.
"I shudder when I think about it. It was ripping my flesh!"
Martha Davis and The Motels: Studio, Auckland, Friday March 21; Bodega, Wellington, Saturday March 22; Dux Live, Christchurch, Sunday March 23.