Cirque Du Soleil's latest show looks at evolution, from the primordial to the superhuman.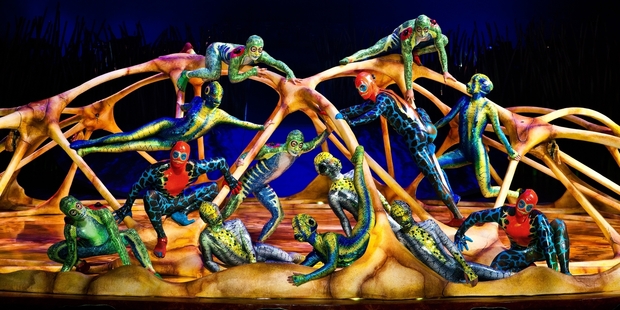 The mind-boggling imagination of Cirque du Soleil will again be on display in August when the company brings Totem to Auckland.
The big-top show has been seen by two million people in North America and Europe since it opened in Montreal in April 2010, and now heads south for the first time, opening here on August 22 in the Grand Chapiteau tent, which will be set up at Alexandra Park.
Created and directed by Canadian writer and director Robert Lepage, the show (Cirque's 26th creation) loosely centres on the theme of evolution, looking at our transformation from primordial amphibious creatures to the superhuman beach boy of today, and onward to the futuristic cosmonaut, as well as blending ecological and mythical ideas.
"The title is a reference to the spiritual connection to Native American stories that Robert Lepage pays homage to," says artistic director Neelanthi Vadivel, "as well as an homage to the ethnic and creation myths of various other nations and peoples. The word 'totem' contains the idea of the order of species.
We carry in our bodies the potential of all species, all the way to our desire to fly - like the thunderbird at the top of the totem pole. This is the central concept of the show."
Audiences can expect to see multi-coloured acrobatic frogs, Amerindian hoop dancers, a pseudo-wedding ceremony on roller skates, a Bollywood-inspired rings act, a flying bars routine inspired by South America, and a large-scale molecular experiment which promises to balance scientific ideas with religious concepts, and various myths and legends.
"Totem takes us on a journey through various cultural references. For example, the turtle shell (a key part of the set) is a symbolic image that can be found in various cultures. We do not portray a specific myth, but some scenes evoke religious conceptions, some are totally coming from the Darwin theory, while others are reminiscent of the spiritual views from various ancestral cultures.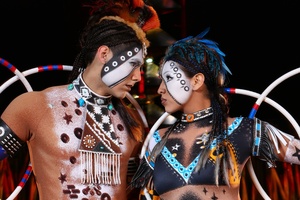 "The show is a collection of scenes from the story of evolution randomly linked together in a chain (not in chronological order). Featuring Neanderthals, Cro-Magnons, primates and men in suits, among others, the show depicts a world of archetypal characters who, in their own way, witness and act out the perennial, existential, questions of life."
It's neither an academic lecture nor a documentary, but a spectacle, designed to entertain and mesmerise, so the imaginations of the creative team have been allowed to run wild with the cast of 46. The costumes are still fantastical, the music dramatic - lots of percussion, some tribal singing, and lively joyous instrumentals - and the set once again pushes the edges of technological development, with Lepage seamlessly integrating interactive projections with both the cast and audience.
"Tilted slightly forward, a platform called the image marsh acts both as a stage entrance and as a projection surface. Through the magic of moving images it becomes a virtual swamp, a river source, a marsh, a lake, an ocean, a volcanic island, a pond and a starry sky. The images in the projections were shot for the production in various parts of the world, including Iceland, Hawaii, and Guatemala, by image content designer Pedro Pires."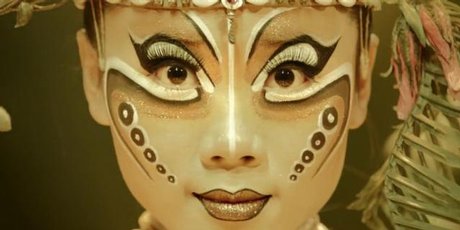 And if you're thinking that if you've seen one Cirque show you've seen them all, well, Vadivel is sure Totem will offer plenty that fans have never witnessed before.
"Some disciplines can be seen across a few shows, but the approach, setting, choreography and combinations of acrobatic skills presented are never duplicated.
"Each show brings different emotions and reinvents Cirque in its own way. For Totem, I would say more than 80 per cent of the acrobatic content has never been seen on a Cirque stage, and if it has it is brought in a creative way that make audiences rediscover it completely."
What: New Cirque du Soleil show Totem
Where: In Auckland, at Alexandra Park, where the Grand Chapiteau will be set up.
When: From August 22 to September 28.
Tickets: Pre-sale tickets are now available to Cirque Club members at cirqueclub.com. Tickets are available to the public from 9am, Thursday, February 27 at cirquedusoleil.com/totem
- TimeOut