From calypso to virtuoso Indian music, the festival showcased some astonishing acts, with punters to match.
As droves of people were arriving in Auckland on Friday afternoon, some happy campers were leaving the city and heading to the coast - to the idyllic surrounds of Tapapakanga Regional Park on the Firth of Thames for the biennial Splore Festival.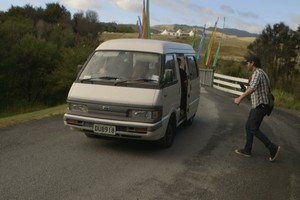 Celebrating its 10th birthday with a theme of Love is the Drug, the three-day party was bathed in the goodwill of the weather gods, with scorching sun, starry skies and a luminous full moon adding to the revelry.
It's a festival where the artistic details and extra activities are given as much attention as the headliners, where the punters are often as colourfully entertaining as the scheduled acts, and where you're just as likely to see Sam Hunt waxing lyrical to a gathering under a tree as a menacing, meticulous, super heavy set from the likes of renowned experimental hip-hop beat master DJ Shadow.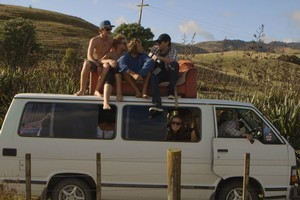 With five stages full of entertainment over three days, there's no way to see it all, but there were some acts that deserve a mighty tip of the cap.
Impressive genre mash up
She was drum 'n' bass, punk, soul and pop all rolled into one, but most of all, flamboyant British diva Ebony Bones was dripping with attitude, and got the whole crowd sassing right along with her. Accompanied by two mysterious dancers bedecked in horses' heads, and later, giant eyeballs, she cut a punchy figure in her white paper lantern scarf, and proved exactly why she's been dubbed a cultural phenomenon in the Northern Hemisphere.
Craziest foreign accents
It was their sixth appearance at Splore, but hitting the main stage just after 11 on Saturday night, The Cuban Brothers were precisely the right fuel for the 2014 fire. With their white suits, rollerskates, break-dancing skills and a crate full of party hits like Whitney Houston's I Wanna Dance With Somebody, MJ's Don't Stop 'Til You Get Enough, plus a Gang Starr tribute, the trio had the potential to come off as too novelty, but outlandish MC Miguel and his playful Cuban accent (none of them are actually from Cuba), held it all together. No wonder Elton John invites them to his parties.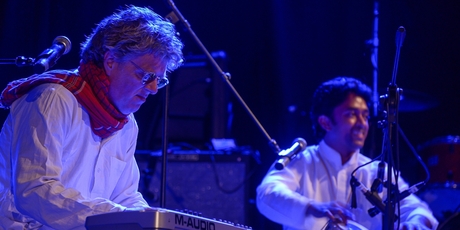 Best blast from the past
It's been too long since we've heard the dulcet tones of a group of strapping Maori lads in harmony, and the Modern Maori Quartet managed to take everyone right back to the 50s and 60s with their Howard Morrison-esque sound, while also keeping themselves firmly in the 21st century with their easy banter. They were only on for 20 minutes, but they took the crowd from some old school Kiwi classics to Elvis, Beyonce and finally a mass hula dance, leaving everyone clamouring for more.
Hilariously educational set
Who knew that an instructive DJ session on the beauty of calypso could be so eye-wateringly funny. Juan Vesuvius (aka Barney Duncan) managed to pull off one of the most jaw-achingly good musical-comedy shows that New Zealand has ever seen, working the Living Lounge crowd, from 20 scattered punters seated on the grass to a full-blown party, with only his turntables, maracas and perfectly chosen vinyl for company. It's hard to explain his routine, but with banter revolving around the differences between soca music, Kate Bush, acid house and Barry White, it's certainly a singular and eclectic piece of entertainment.
Afternoon mind bending
Take two synth players, a percussionist, and a father and son from India playing sarod and tabla respectively, and you have the Holiwater Project - the virtuosic blend of classical Indian composition with some perfectly pitched ambient grooves that seemed like the only thing one should be listening to while floating in gentle waves just in front of the main stage under the midday sun.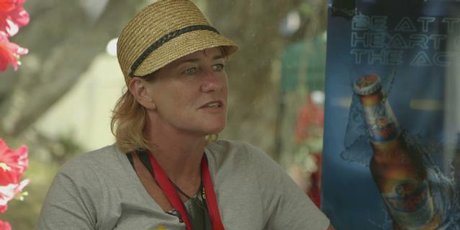 Best on-stage party
There was so much energy pulsating from the stage during Weird Together's set, it felt like they could've powered their own sun. The Auckland ensemble looked like they were having the best time imaginable as Nick Dwyer and Dick Johnson laid down their world-inspired beats, and propelled the crowd into a writhing frenzy with two steel pan players, the four "Horns of Tekapo", lead singer Karima Madut, percussionist and singer Mavs Adegbite and guitarist Gaza Trip.

Best off-stage party
Saturday night is generally when Splore-goers really change up a gear, and change their outfits, creating a site-wide costume party, and there was no place better to enjoy that spectacle than in the circus-tent-like venue the Living Lounge. Of course Auckland 10-piece Sal Valentine & the Babyshakes were having a marvellous time, and sweating profusely on stage as they punched their way, ever-so-tightly, through some deadly swinging tunes, but it was the audience who really threw down as prom Kings and Queens were named, and a kaleidoscope of circus madness was presented.

Lowdown

What: Splore Festival 2014
Where and when: Tapapakanga Regional Park, February 14 to 16