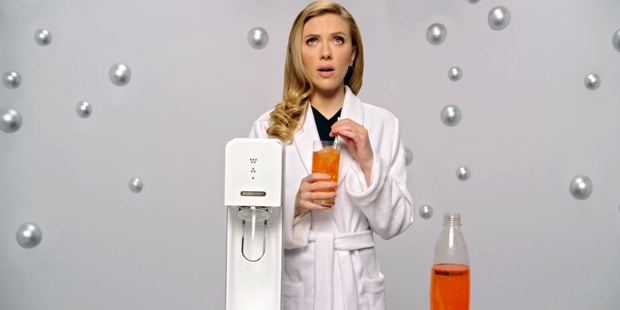 A British celebrity photographer has become entangled in the debate over Scarlett Johansson's promotion of SodaStream, issuing an apology after giving his version of why he believed the actress cut her ties to charity Oxfam.
John Rankin Waddell, known under his working name Rankin, said he believed Johansson was compelled to choose her ties to SodaStream over her work for Oxfam in deference to the power of America's "Jewish zealots".
The actress resigned as an ambassador for Oxfam last month after the charity objected to her role in an advertisement for the carbonated drinks brand with a factory in the Jewish settlement of Maale Adumim in the occupied Palestinian territories.
Rankin, who has photographed Johansson several times, said in an interview with the Independent: "I've got a lot of time for her, but I've got a very negative view on SodaStream.
"I think the reason that she's not backed down is because, in America, the Jewish zealots are so powerful.
Especially in the entertainment industry, what they could do to her career.
"But the main thing in all this for me is that kind of extreme Judaism.
"That extreme belief that this is their homeland and those people are worthless to them.
"That's very powerful in America.
"They will blacklist you. It's worse than McCarthyism."
Rankin issued a statement apologising for the remarks.
"In an interview that was set up with the Independent about the launch of [a fashion magazine], I regret responding so glibly to off-topic questions on such a difficult and sensitive subject," he said. "Of course this is not my official position and I apologise wholeheartedly for my use of language and any offence this may have caused."
A spokesman for Rankin said the comments were made "off the record" and were "half-baked" remarks in response to a question, adding: "He was asked about this and gave his thoughts. It's been spun. It's not his position."
But Mark Gardner, of The Community Security Trust, which campaigns on issues of anti-Semitism, said the remarks revived longstanding slurs alluding to the power of Jews over the media.
He said the photographer and the newspaper should repudiate the remarks.
"It's allegations about Jewish power over the media that distinguishes anti-Semitism from other forms of racism," he said.
"Rankin may well not be an anti-Semite, in which case he should learn not to spread the stink of anti-Semitic claims about Jews running the media and Hollywood."
Johansson's spokesman said last month the Hollywood star could not ignore fundamental differences with the charity after the SodaStream advertisement was broadcast.
Oxfam has condemned SodaStream's operations in an Israeli industrial zone in the occupied territories and said Johansson's role promoting the company was "incompatible with her role as an Oxfam global ambassador".