A host of local stars feature on hit Aussie drama Rake.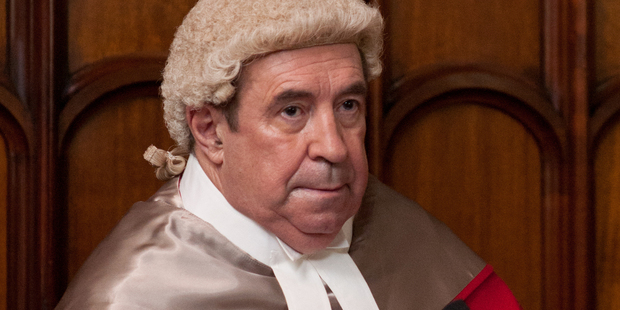 Aussie comedy-drama Rake, which made its free-to-air debut this month, stars Richard Roxburgh as criminal lawyer Cleaver Greene. A charming rouge, Greene takes on seemingly hopeless cases out of a sense of kinship with the defendants - he's a hopeless case, a hostage to his own self-destructive appetites and enthusiasms.
Roxburgh is reliably watchable as the wounded, witty Greene but he's far from the series' only on-screen attraction, thanks to a cast comprising top Aussie acting talent - which these days includes more than a few performers from this side of the ditch.
"Oh yeah, there are a lot of Kiwis in it," says Roy Billing, who has a recurring role on Rake. "Sam Neill is in an episode, Danielle Cormack is a regular, Robyn Malcolm is heavily featured in season two, Marshall Napier is in it, Martin Henderson and Craig Hall both pop up."
Born and bred in Ruawai, Billing almost qualifies as an honorary Aussie after living in Sydney for nearly three decades.
He shifted there in the late 80s because, after high-profile parts on series such as Gliding On and Inside Straight, he knew work here was about to dry up when New Zealand network execs labelled him "overexposed" - "or what they call successful anywhere else," Billing laughs.
It proved a prescient decision - although last year he appeared on our screens in the Robyn Malcolm real estate comedy Agent Anna and a bank ad, for many years Billing couldn't seem to get arrested in New Zealand.
In Australia, meanwhile, after a short period of painting houses, driving vans and working on building sites, Billing found himself in hot demand. "I sort of knew it was just a matter of staying around long enough for people to get used to me," he says, "and then, bang, it happened."
Since the early 90s he has rarely been out of work. Highlights include the films Rabbit Proof Fence and The Dish and his award-winning turn as mobster "Aussie Bob" Trimbole in TV series Underbelly: A Tale of Two Cities.
It was still a novelty for a New Zealand actor to break into the Aussie industry when Billing did it. Now it's an increasingly common component of a Kiwi's career path, thanks to a local drama drought here at the same time as Australian TV production is going off.
"The Aussie networks are commissioning series after series," Billing says. "Local shows are out-rating all the international stuff."
A recent report noted that 94 of the 100 most-watched programmes on Oz TV last year were homegrown. That popularity is partly a testament to the strength of Aussie scriptwriting, and it was certainly Rake's writing that helped lure internationally recognised actors like Toni Collette, Rachel Griffiths and Hugo Weaving home from Hollywood to do guest spots, says Billing. Plus, he reckons, the huge respect with which Roxburgh and series creator Peter Duncan are regarded in Oz was a big draw.
Of course, Billing laughs, he was pretty much obliged to appear. "Peter's an old mate of mine and I've been in everything he's done since he left film school. We've got a little joke that I have to be in all his projects, even if it's just a tiny role."
In Rake, that role is Judge Jordan, who appears in the episode screening this week, presiding over the trial of a bigamist.
"That is based on a real case," says Billing, "involving a guy who had a wife, family and restaurant in Surry Hills and another wife, family and restaurant in the Blue Mountains.
"How he managed all the travelling backward and forwards, I don't know. And then they discovered he had a third wife and family up in Newcastle."
Indeed, most of the bizarre legal proceedings Greene gets involved in are torn from the headlines.
"They've plucked out all these weird and wonderful cases from around the world and from the career of Sydney barrister Charles Waterstreet, a consultant on the series and the model for Greene," says Billing. His favourite based-on-fact episodes include the series' premiere inspired by Germany's infamous 2003 cannibal trial and the one starring Sam Neill (screening here March 4) as a Tasmanian doctor who, with his wife, allegedly took the term "dog lover" much too far.
Rake screens Wednesdays, 8.30pm, on TV One.