Three new musos lend a guiding hand to inmates.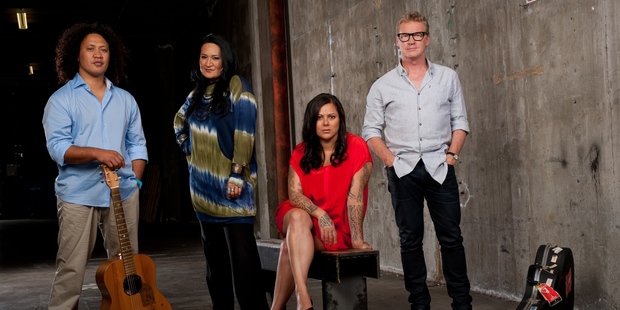 Making a welcome return this week is Songs From the Inside, in which professional musicians coach prison inmates to write and record their own songs.
In the first season, which was deservedly heaped with praise, the musos were Warren Maxwell, Anika Moa, Maisey Rika and Ruia Aperahama, and their students resided in Wellington's Rimutaka and Arohata prisons.
Season two has a change in location (two Auckland prisons feature) and personnel.
Twelve new prisoners face the music as well as make it, and three new musicians (Don McGlashan, Annie Crummer and Laughton Kora), join Moa who is back to provide continuity and her warm but no-nonsense approach to getting the best out of the imprisoned pupils.
If a show like this screened on one of our commercially driven channels, I imagine it would be structured as a competition in which inmate-contestants were eliminated each episode by a panel made up of the victims of their various crimes.
Thankfully, it's a Maori Television series. Director Julian Arahanga and production company Awa Films treat the inmates with respect, at the same time as insisting they confront their past misdeeds.
As Kora puts it succinctly, "This whole project [is about] people helping people and everybody deserves a second chance." And it proves being worthy and compelling don't have to be mutually exclusive."
Also worthwhile and watchable is doco Aftermath - the Triumph of the City, the fifth in a series of one-offs from Paua Productions about the ongoing impacts of Christchurch's earthquakes.
The previous programmes, all of which screened on Prime, looked at the geological realities of living in an active earthquake zone, the social and economic stresses and what it has meant for the city's heritage.
This latest instalment is about how "out of the destruction comes an opportunity to rebuild as a city for the 21st century". A mix of talking-head experts, computer simulations and visuals give a vivid sense of the state of the city and its inhabitants and the various options they face. It is dense material that sometimes drags but bear with it: Aftermath is an illuminating hour.
How to describe House of Lies? Well, it's a Showtime series, the US cable network responsible for Weeds and Californication and, like its stablemates, seeks to be a shockingly entertaining portrait of people behaving very badly indeed.
Starring Don Cheadle (Hotel Rwanda, Iron Man III), it is based on the non-fiction book House of Lies: How Management Consultants Steal Your Watch and Then Tell You the Time.
As that source material suggests, Cheadle and colleagues Kristen Bell (Veronica Mars) and Ben Schwartz (Parks and Recreation's Jean-Ralphio) are douchebag consultants who earn big bucks giving their corporate clients morally bankrupt advice and ripping them off every chance they get.
We are meant to enjoy and admire the consultants' shameless chutzpah, not condemn it, because their clients are even more despicable than they are.
The excellent cast has sucked me in for now but I'm not sure how long I'll be able to stomach it, given that in the real world the ultimate victims of such sociopathic shenanigans are ordinary punters like you and me.
Aftermath - the Triumph of the City screens tomorrow on Prime at 8.30pm; House of Lies debuts Thursday, 9.30pm on Four; and Songs From the Inside returns Friday, 9.30pm, on Maori Television.