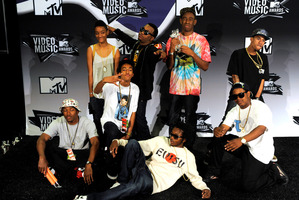 A ban on controversial rap group Odd Future entering New Zealand is hypocritical, its frontman says, as other rappers' songs also contain explicit and violent lyrics.
Tyler, The Creator hit out at the ban, saying Rapture festival's headline act Eminem's music also paints images of killing and raping women, and homophobic content - criticisms levelled at the Los Angeles collective.
However, Immigration New Zealand (INZ) said the ban on allowing Odd Future into the country to perform at tomorrow's Rapture concert had nothing to do with its lyrics.
It barred the band from taking the stage at the Western Springs event saying Odd Future posed a "potential threat to public order".
However, Tyler hinted he thought the ban was hypocritical.
"The irony is that, we can't get in to open for Eminem. Hahahaha, like he didn't make 'Kill You' or 'Kim' Hahahahahahah," he tweeted.
He followed it up by posting: "I love NZ tho", with a photograph of the confirmation notice by INZ relating to the group.
The two posts have notched up over 5000 retweets and 7000 'favourites' from fans.
INZ insisted the ban had nothing to do with lyrics, and was not a decision "made lightly".
"If we banned people who used swear words, we wouldn't have many people left in New Zealand," border operations manager Karen Urwin said.
She also told Radio New Zealand the ban was on the group, but if members of the group wanted to travel here as individuals they would be welcome.
In the same Immigration letter that Tyler posted online, INZ said: "The Immigration Act 2009 provides that entry permission may not be granted where there is reason to believe there is, or is likely to be, a threat or risk to public order or the public interest.
"Odd Future has been deemed to be a potential threat to public order and the public interest for several reasons, including incidents at past performances in which they have incited violence. In one instance, a police officer was hospitalised following a riot incited by Odd Future."
It is believed the reference is in relation to a 2011 incident at an album signing for Tyler, The Creator in Boston when the group climbed on top of the shop and ran from roof to roof. An officer was hurt and a 13-year-old girl arrested.
Odd Future - also known as Odd Future Wolf Gang Kill Them All - had been brought in as emergency replacements at tomorrow night's Rapture tour after one of the show's top billings Kendrick Lamar announced on February 2 he was pulling out because of an "unavoidable scheduling conflict".
But INZ scuppered those plans yesterday.
Tyler, The Creator hit out on Twitter about the decision. "OF is banned from New Zealand, again. They said we were 'terrorist threats and bad for the society' or whatever," he said.
Manager Christian Clancy tweeted: "Sorry New Zealand apparently this group of kids that have inspired the s*** out of me for the last few years are a threat to society. And thanks for the hour before flight heads-up. After approving and issuing visas."
He followed it up with a tweet suggesting the band had matured since their teenage days.
Paul Rosenberg, who manages Rapture acts Eminem and Action Bronson, said it was a "very unfortunate decision", adding: "We do not support any decisions by government agencies or otherwise that result in the suppression of any form of artistic expression."
A replacement for Odd Future has yet to be announced.
Key: 'People are frustrated'
Prime Minister John Key said while Immigration New Zealand would have had their reasons for cancelling the visas of rap group Odd Future, it would have been better if the decision had not been last minute.
Mr Key said members of the public had voiced their frustration to him about it when he was at the airport today. It was an operational matter for Immigration New Zealand and he did not know the basis for it in any detail or why the decision was made so late.
"There will be plenty of people who go to the concert who will be feeling quite frustrated by that. I ran into a few of them when I was coming off the plane arriving in Wellington this morning. People are frustrated."
He said Immigration New Zealand operated at arms' length from Government. "I'm sure they had their reasons. It's good if they can communicate that early so the fans know."
He had not known about it until he saw it on the news. "I know very little about their music apart from apparently a lot of their lyrics are extremely provocative."
He did now know the exact timeline, but said it was not the first time there had been controversy over visas in such cases.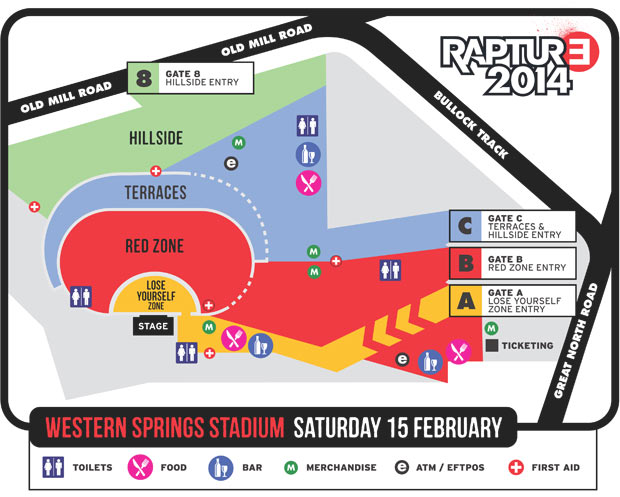 THE AUCKLAND SHOW: WHAT YOU NEED TO KNOW
What: Hip-hop festival Rapture
Where: Western Springs, Auckland
When: Saturday, February 15
Crowd size: Promoters are expecting ticket sales to exceed 55,000.
Who: Rapture is being headlined by Eminem, one of hip-hop's biggest stadium stars who started his career with celeb-bashing shock-raps but evolved into a bold, brash, controversial, funny and extremely personal MC who, on his day, has peerless rhyme skills. He's being backed by former chef and New York mixtape king Action Bronson, North Carolina's R&B-infused rapper J. Cole, talented local lad David Dallas and Aussie up-and-comer 360.
Times: Gates open at 3.30pm. First act 360 is due on stage at 4.20pm. Eminem is due to take the stage at 9.15pm. Closing time around 11pm.
Alcohol: No BYO is permitted but there will be bars at the venue which close at 9.30pm.
Getting there: Check your ticket for which zone you're in - it will match up to one of the venue's four entry-points.
Rules: You can take a one-litre water bottle with you, as long as it's sealed. Moshing, stage diving, crowd-surfing and umbrellas are banned. There are no pass-outs. Bring cash if you want to buy anything. Lastly, don't try and rap along with Eminem - he's too fast and you'll just annoy the people around you. Don't be that guy.
- APNZ