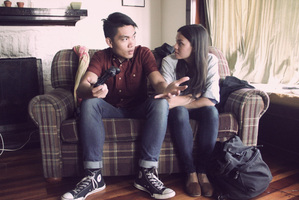 Auckland's ever-expanding Lantern Festival has burst out of its Albert Park site to encompass a contemporary piece of theatre that casts a flickering light on aspects of the Chinese experience that usually remain unseen.
By focusing on personal responses to a disintegrating marriage, playwright Renee Liang has created an intimate Kiwi drama that confirms Tolstoy's adage that every unhappy family is "unhappy in its own way".
There is a finely nuanced understanding of cultural stereotypes, with the New Zealand-born children of Chinese immigrants showing they are completely at home with Kiwi culture but still feel a painful sense of being outsiders.
The younger characters ironically toy with the familiar cliches about the Chinese temperament and undermine the pervasive assumption that a fierce work ethic and unassuming demeanour somehow make the Chinese immune to emotional trauma.
The play has the luminous texture of a collage in which fragments of conversation and lucid memories are scrambled together in a story that sometimes lacks narrative momentum but succeeds in drawing the audience into enjoyment of sharply observed details.
With two actors taking on multiple roles, James Roque and Chye-Ling Huang are faced with plenty of challenges that are well handled - especially in the climactic family dinner where a four-way conversation requires lightning quick character changes that cross the generational divide.
James Roque is appealingly laconic as a high-achieving slacker and conveys the frustration of an immigrant father who has no way of sharing his love of classical Chinese culture. Chye-Ling Huang brings an appealing presence to her portrayal of a mother who cannot express the vague sense of dissatisfaction that leads her to abandon her family.
The play offers an intriguing insight into the intimate human dramas that lie beneath the exquisite ornaments and spectacular fireworks of Auckland's Lantern Festival.
What: Lantern
Where: Maidment Theatre, Musgrove Studio, to February 15