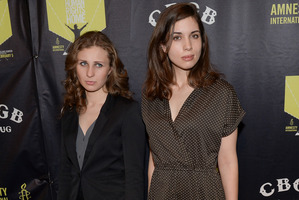 Maria Alyoshina and Nadezhda Tolokonnikova from punk band Pussy Riot have received offers for a Hollywood film based on their lives, the pair revealed at a Berlin Film Festival press conference.
The Russian duo said they had received "several offers" for film projects, but they declined to share the names of studios chasing them.
"We have some offers but we cannot say from whom, nothing is agreed," Tolokonnikova said, joking that the movie would be "like Star Wars".
When pressed over George Lucas' possible involvement, she added: "Sorry, we have some offers but we cannot say anything at the moment."
Tolokonnikova and Alyoshina had flown into Berlin after appearing on-stage with "freedom fighter" Madonna to demand a " Russia without Putin" at New York's Amnesty International concert last Wednesday.
Tonight, the human rights activists will attend a screening of Mike Lerner's documentary, Pussy Riot: A Punk Prayer.
They appeared at the Cinema for Peace press conference alongside Nelson Mandela's grandson Kweku Mandela and Bianca Jagger, a European Council Goodwill Ambassador, to promote their prison rights foundation Zone of Law.
Alyoshina criticised Russia's anti-gay laws, arguing that "every time there is a crisis in society, the government tries to find a guilty party to blame for it".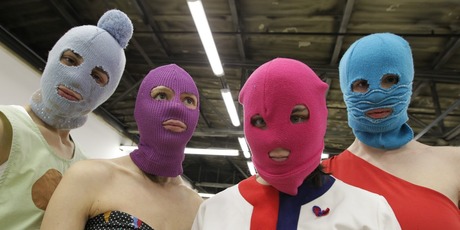 "That is weak power," she said. "A power that is not able to admit fault. This kind of a power is what we see in President Putin."
Both Pussy Riot members were in agreement that running for seats in the next Moscow city parliament election was a possibility, but neither would run for president.
Tolokonnikova and Alyoshina spent nearly two years in prison after being convicted in 2012 of "hooliganism motivated by religious hatred".
Pussy Riot protested inside Moscow's biggest cathedral, singing songs calling on the Virgin Mary to remove President Vladimir Putin from office.
- Independent