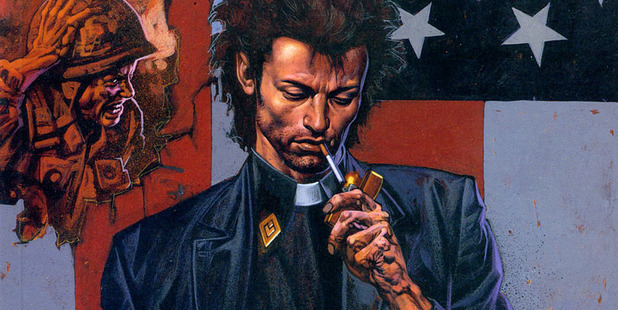 AMC have reached an agreement with Sony Pictures Television to develop Preacher, a controversial nineties comic book from writer Garth Ennis and Steve Dillon.
The show will be written and produced by Seth Rogen and Evan Goldberg, childhood friends who recently collaborated on comedy-horror This Is The End, while Breaking Bad's Sam Catlin will serve as showrunner, Deadline reported.
Preacher follows disillusioned preacher Jesse Custer as he tries to find God after discovering He has given up his seat in heaven and abandoned the human race, joined by an ex-girlfriend and a vampire.
"We've tried for seven years to work on Preacher and we're so psyched AMC is finally letting us," Rogen and Goldberg said in a statement.
"It is our favourite comic of all time, and we're going to do everything we can to do it right. Humperdoo!"
Preacher has spent years in development hell, with plans for both TV shows and a movie being mooted and scrapped repeatedly.
"Steve Dillon and I are very happy to see Preacher being developed for TV, which seems a much more natural home for the story than a two-hour movie," writer Garth Ennis said.
"Obviously it's taken a while, but Ken Levin along with Neal Moritz and his team refused to give up, long after the point when I myself grew skeptical, and their unrelenting enthusiasm for the project has gotten us where we need to be.
"I'm particularly impressed that Seth Rogen, Evan Goldberg and Sam Catlin understand Preacher fully - meaning they get it for what it is, not some vague approximation."
There is no word on when Preacher might appear on television here or in the US.