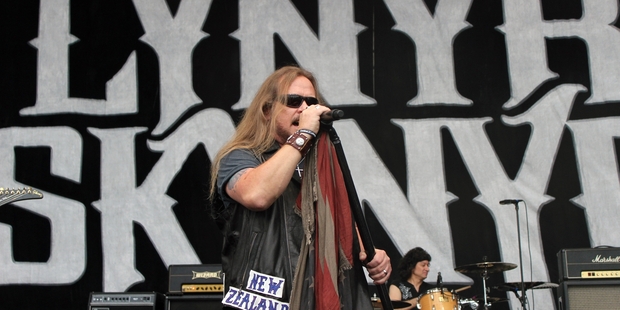 As with the old joke about Captain Cook's original axe - "it's had three new handles and two new heads" - there were easy points to be made noting these three bands come up short on original members: just one founder in each, although within Skynyrd's ranks were many who've been there for almost three decades.
But, as the MC said, the bands were there to play "all the hits you know" and between them - an oddly mismatched billing of 70s pop-into-art rock from 10cc, Starship's mainstream FM rock of the 80s and Skynyrd's Southern roots blues-rock - they could boast a number of staples on rock radio.
From the opening chords 10cc announced their refined musicianship and effectively ticked off the familiar Wall Street Shuffle, The Things We Do For Love, Good Morning Judge, the expansive I'm Mandy Fly Me and the odd Life is a Minestrone. With an impressive Pink Floyd/David Gilmour-like playing guitarist Rick Fenn introduced Art for Art's Sake which sounded even more ironically art-rock after his contribution.
But thereafter the momentum sagged, not the least because although it was a beautiful day in a lovely and well-organised setting, a flat field - as opposed to an amphitheatre - is not conducive to a band connecting with a large audience (and vice-versa).
Their excellent rendition of I'm Not in Love proved again just what craftsmen they were, and this being New Zealand the reggae of Dreadlock Holiday had many on their feet.
It helps too right now that "we don't like cricket, we love it".
Starship were a different proposition because many of their songs are not so familiar (decent versions of Jane and Sara however) and it wasn't until the anthemic and emotion-tugging Nothing's Gonna Stop Us Now they started to connect.
Vocalist Stephanie Calvert made a decent job of Jefferson Airplane's White Rabbit and Somebody to Love, which proved again this concert was about nostalgia for the songs not about the singer ... because no one in this Starship - a trickle-down of Jefferson Airplane and Jefferson Starship - had been in that band, nor for Jefferson Starship's Miracles or Count On Me which they also played.
At this point they were little more than a very good covers band.
More acceptable was singer Mickey Thomas including Fooled Around And Fell in Love which he'd sung with the Elvin Bishop Group, which served to remind what a fine soul singer he is.
Lynyrd Skynyrd delivered the real deal by just being what they are - a tight, long-haired and tattooed rebel-rock Southern band with roots in blues and country, offering a triple-threat guitar frontline and a singer in Johnny Van Zant who knows how to work a crowd.
Because they've never strayed far from their roots their new material like Last of a Dyin' Breed slipped in easily alongside classics like Sweet Home Alabama. And you needn't have called out for Free Bird because they were always going to play it.
Southern rock was the winner on the day, and under a blue sky that "Sweet Home Matakana" banner in the crowd made a lot of sense.