Abbie Cornish admits to getting clucky on set of sci-fi reboot and says she loved playing a devoted wife.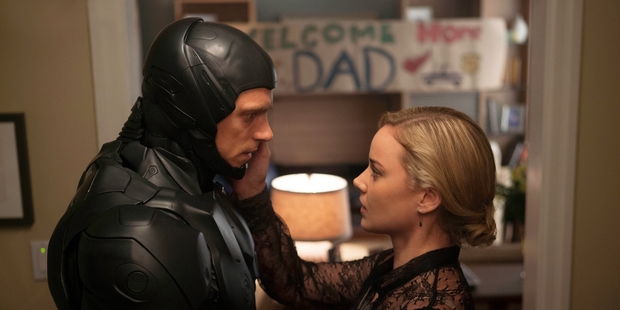 There's a lot going on in Abbie Cornish's head these days.
The 31-year-old Australian actress who has spent the past seven years living in Los Angeles and working with Robert De Niro, Madonna, Bradley Cooper and Zack Snyder has some needs to fulfil.
Later this year she hopes to release a solo hip-hop album that has been five years in the making.
Cornish, after plenty of dramas and arthouse films, including a starring role in Jane Campion's acclaimed 2009 period drama Bright Star, is also keen to do a comedy and wouldn't mind taking over from Angelina Jolie as the next Lara Croft if there is ever another Tomb Raider film.
On the personal front, she is keen to find her true love and admits to being a little clucky.
She points the finger at doe-eyed 12-year-old Canadian actor John Paul Ruttan, her young co-star in RoboCop, for stirring up her desire for children.
"He's the perfect child in my eyes and his mum agrees," Cornish says. "We hang out all of the time.
"I'm like, 'Kathy, if I could have a son like yours I'd be the happiest mother in the world'."
In her latest film, RoboCop, a remake by award-winning Brazilian film-maker Jose Padilha of the classic 1987 sci-fi action movie of the same name, Cornish plays Clara Murphy, wife to police officer Alex Murphy (Swedish-born actor Joel Kinnaman), who is severely maimed during an attempt on his life.
Clara is forced to decide whether technology company OmniCorp turns her husband into a part-man, part-robot crime fighter.
"I loved going to work playing a loving, devoted wife," Cornish said.
Single and dating, Cornish said she wanted to find the right guy. Her most notable relationship was the three years she spent with actor Ryan Phillippe after his split with wife Reese Witherspoon. Phillippe and Cornish met on the 2007 set of the Iraq war drama Stop-Loss.
"I've always wanted kids and, yeah, I'd really love to have a child in the not-too-distant future," Cornish said. "I'm single, but I'd love to fall in love. I'd totally get married. It just felt beautiful [playing a mother in RoboCop].
"I have a lot of friends who are married and a lot of friends who have kids and I know it's not easy being a parent and you go through a lot as a couple, but it's just something I look forward to."
Cornish has three brothers and a sister and the family, while growing up on a Hunter Valley farm, had a VHS copy of RoboCop.
It was played so often it was shredded, so when she received the call asking if she wanted to be in the RoboCop reboot her answer was an excited "yes". A script had not been written when she signed on.
"I'm now much cooler in my older brother's eyes," Cornish said.
Padilha, whose 2007 film Elite Squad won the Golden Bear award at the Berlin Film Festival, was ecstatic she took the part.
"I needed a great actress in there because it wasn't just a regular role," he said. "It's an important part of the movie. It is the best way for me to bring in a non-intellectual way to ask the humanity question."
Cornish says: "I feel I grew up with this film so it felt really nostalgic. It was so nice to be able to create that role.
"[My role is] just a pulse, a heartbeat to Murphy's story that helps with the humanity, the existential element of robot versus man and humanity. Mostly heart, I think."
She also found the RoboCop shoot a learning experience. She couldn't help but pick the brains of Gary Oldman, who plays the scientist who rebuilds her husband as RoboCop, for acting advice.
Their discussions left the actress in awe of his talent and she now aspires to have a similar level of longevity.
"When I first sat down with Gary I said, 'Gary do you mind if I ask you a few questions, actor to actor?' I said, 'You've done this for a while, you're incredible at what you do, do you still get that same feeling of excitement when you walk on the set that I feel when I walk on a set?"'
"And he's like, 'Every day'. And it was so nice and so refreshing. I mean I've worked for around 15 to 16 years, and you look at him and it's like, I hope I have a career like that. It's like that feeling, that buzz - it's inspirational."
But music, not acting, was Cornish's first love, whether it was playing piano or performing hip-hop.
But, when her acting career took off with the 1997 Australian TV series Wildside, and then went international with her Australian Film Institute best actress performance in 2004's Somersault, music took a backseat.
"It is half-recorded, the rest is written and I go back into the studio in two weeks to finish it and so, hopefully, at the end of the year it will be released," Cornish said of her album.
As for Lara Croft, if her 28-year-old brother Hayden gets his way, it will be soon.
"My brother said the other day, 'I think it's time they remade Tomb Raider with you'," she said. "I was like, 'You're the best, Hayden'."
Movie profile
Who: Abbie Cornish
What: RoboCop, the remake of the 1987 sci-fi film
When and where: Screening at cinemas now
- AAP