The most-hyped film this year lives up to its promise. 12 Years A Slave is a must-see, says Dominic Corry.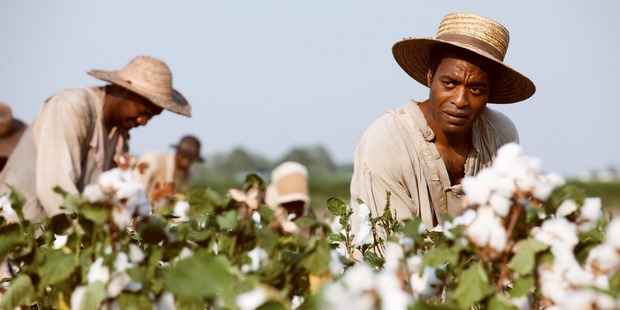 The timing of the Oscars creates havoc with Kiwi end-of-year best-of lists. To qualify for an Oscar, a film has to have played in an American theatre before the end of the previous year. But the marketing push provided by awards season is too great for international distributors to ignore, so they often hold on to movies most likely to get Oscar-recognition, and release them in February, when the nominations have been announced and awards anticipation is ramping up. It often results in a deluge of "quality" films, some of which fail to live up to their early positioning as prime Oscar candidates. This week sees the release of three Oscar-y films of wildly varying quality - 12 Years A Slave, Labor Day and Saving Mr. Banks.
With nine nominations, 12 Years A Slave is the film to beat at this year's ceremony. Based on a true story, it tells the tale of Solomon Northrup (English actor Chiwetel Ejiofor), a free black man who is kidnapped and sold into slavery in pre-Civil War America. He endures unimaginable suffering through his 12-year ordeal, and witnesses even worse treatment of others.
The seriousness of the subject matter meant this film screamed "Oscar bait" from the get-go, and consequently I went into the cinema in a somewhat cynical frame of mind. It didn't take long for the movie to shock me out of my ironic distance. This is powerful, heart-wrenching filmmaking that stays with you long after the credits role.
Ejiofor's American accent isn't perfect, but his hugely empathetic performance is a rock to cling to throughout the film's many difficult scenes. The insanely talented supporting cast (Benedict Cumberbatch, Michael Fassbender, Paul Dano and Sarah Paulson) all gamely embrace their characters, who comprise some of the worst people ever seen in a movie. Lupita Nyong'o also makes a huge impression as a fellow slave - she's all but assured a highly deserved Best Supporting Actress win.
My cynicism reared its head slightly when producer Brad Pitt turned up as virtuous soul who attempts to help Northrup, but by then I was ready for any kind of relief. As intense as it can be, 12 Years A Slave must absolutely be seen - it's a searing reminder of just how detestable human beings can be to each other.
Director Jason Reitman's last two films (Up In The Air and Young Adult) both received Oscar-love, and everyone clearly presumed his new work Labor Day would continue the trend. Alas, the nomination-less film is a ponderous misfire that elicited chuckles during its most serious moments. Josh Brolin plays a kind-hearted escaped convict who forcibly takes shelter in the home of a single mother played by Kate Winslet and her young son. Although wary, both mother and son come to relish Brolin's presence.
It's not hard to see what Reitman was going for here, but the dramatics never coalesce.
The film presents several big moments which never seem anything but totally calculated.
For a much better take on a similar story, see the underrated 1993 Kevin Costner drama A Perfect World.
Then there's Saving Mr. Banks, which at one point looked like it might be heading for Oscar love, but has only garnered a single nomination - for its musical score.
The film tells the little known tale of how Walt Disney (Tom Hanks) struggled to convince P.L. Travers (Emma Thompson) to give him the rights to her beloved book Mary Poppins.
There's some interesting stuff here, especially concerning Travers' flashbacks to her tragic childhood in Australia, but the end result is only of medium impact. And it's hard not to be cynical about a Disney movie that mythologises the man who created the company. Mary Poppins fans shouldn't miss it though.
For the record:
12 Years A Slave:
Labor Day:
Saving Mr. Banks: