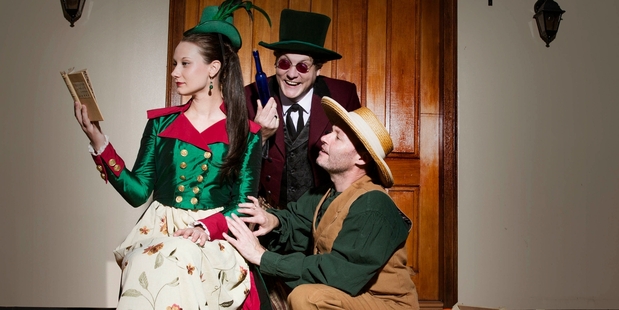 Auckland has had a taste of summertime opera before - most recently in 2010 when a production of Janacek's The Cunning Little Vixen came up from Wellington.
This week, Newmarket's Opera Factory is hosting the Sydney-based troupe Opera Bites, which brings its portmanteau version of Donizetti's The Elixir of Love for a short season running until tomorrow.
On Wednesday, seven singers and a pianist produced a snappy enough diversion. There were laughs even before the action started when an authoritative Eddie Muliaumaseali'i seconded audience members to join in the fun as three soldiers and a trio of village maidens.
Purists might miss Donizetti's recitatives in this version, but Murray Dahm has replaced them with fast-moving patches of dialogue that propel the plot and amuse with their knowing nudges.
The singers were a strong team, making the most of the generous-spirited humour of this classic opera buffa.
Dahm's Dr Dulcamara is a lovable scalliwag, a pompous manipulator of those around him; the New Zealand-born bass does a fine line in musical caricature when he joins the heroine Adina singing Nina the Gondola Girl.
Elli Bortolotti's Adina headed a strong female cast. She may have held back on the coloratura in her Act I Cavatina, but her singing was shapely and stylish throughout.
New Zealand-born Rae Levien played Adina's sidekick Giannetta with gusto, coming into her own in Act II, confiding the news of the hero's good fortune to the "imported" village maidens, in tandem with Sarah Sweeting.
Sweeting, working alongside Muliaumaseali'i as the two-singer chorus, easily lived up to her impressive CV in the programme.
Rik Dawson's Belcore and Peter-John Layton's Nemorino worked well within Donizetti's seemingly indestructible ensemble numbers - Act I's Finale was a particularly smooth ride. Yet both, in solo work, were not so convincing.
However touching Layton's characterisation of Donizetti's hero was, the aria Una Furtiva Lagrima demands an Italianate gorgeousness that was not in evidence.
Considering the summertime activity that goes on in New Zealand, such as Wanganui's annual Opera Week, it would be heartening to see local singers taking a lead from this Australian initiative.