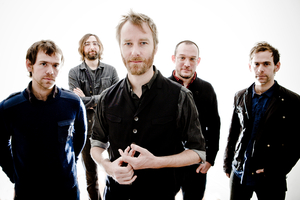 Often when you go to see an act that has been around for a decade, the crowd might want to hear one or two new tracks, but they're really there for the old classics. So it was a treat to find all the songs were met with equal enthusiasm at The National's Tuesday night concert. They might've been together for 14 years, but their 2013 release Trouble Will Find Me is one of their best yet, and a setlist in which they played nearly all of the songs from it, proved the audience love these tunes just as much as the hits from High Violet or Boxer.
There was an intensity and exhilaration in the band's performance that was fed right back to them by the crowd, with 5000 voices often echoing around the stadium in unison with Matt Berninger's beautiful baritone, only enhanced by the excellent light show and constantly morphing visual backdrop.
Right from heavy, chiming opening track Don't Swallow The Cap, the guitar sorcery of twin brothers Aaron and Bryce Dessner, who flank Berninger left and right, the vigorous beats of Bryan Devendorf, the propulsive bass of Logan Cole (who was filling in for Bryan's brother Scott, who's just had a baby), and the addition of two live horn players and multi-instrumentalists Kyle Resnick and Benjamin Lanz created a huge sound palette for them to play with.
With a set full of highlights, it was immediately clear that The National are not the melancholy moody rockers they're often presumed to be. They gave the loping, deep blooming I Should Live In Salt a mesmerising live urgency with a quickened pace; created an exquisite build up to Afraid of Everyone; turned the crowd into a pulsating mass with Bloodbuzz Ohio; perfectly captured the feeling of unravelling drunk nostalgia with Pink Rabbits; and were blissfully romantic on I Need My Girl.
They gave props to Lorde's Grammy performance ("she was the best thing about that whole circus"), dedicated Lean to Philip Seymour Hoffman ("he was the best ... nobody comes close to him"), and Berninger often roamed around the stage in his wild animal style, before he leapt out to barrel through the audience during encore performances of Mr November and Terrible Love.
But it was their signature final acoustic performance of Vanderlyle Crybaby Geeks which sent the audience out on a high, with only acoustic guitars, percussion and horns to accompany their ringing voices.
Who: The National
Where and when: Vector Arena, Tuesday February 3 2014