US Television giant pays visit to Belmont Intermediate to profile rise of Kiwi singing star.
Lorde's old school has been getting some royal treatment, with the world's media heading Downunder to explore where the teenage singing star grew up.
CNN International was at Belmont Intermediate School yesterday, filming a special item that will be aired in more than 200 countries this month.
The programme will follow the life of the 17-year-old - the Auckland suburb she grew up in, the schools she attended and the people who taught her.
A film crew arrived at Belmont yesterday to interview teachers and pupils. They also recorded hundreds of students singing what has become almost an anthem for the school - Lorde's Grammy-winning song Royals.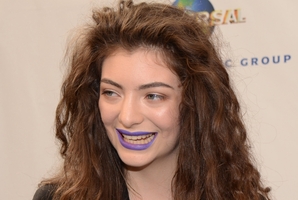 Executive editor for CNN International Features Neil Curry travelled from London to cover the documentary item.
"She's very popular overseas and we just wanted to do something that would go back to where it all started - what school she went to and where she grew up.
"And it started here, at Belmont Intermediate. It's an item that shows the background of her story, where she's come from and the people behind Ella's success."
Lorde's former teacher, Leon Jacobs, was among those to be interviewed.
He told the Herald he was "so chuffed" to see his former pupil performing at the Grammys last week, as well as nabbing two awards.
"I was the teacher that looked after the rock band she was in at the time, called Extreme.
"Even back then, when she was 12, she stood out. She was a natural performer on stage and only encouraged those around her to perform better too. I'm very proud of her achievements."
Those Kiwis wanting to see the special news item will have to do so via Sky TV, where it will air as a special piece on CNN International on February 19 - the night before the Brit Awards. Lorde is set to perform at the awards with British duo Disclosure.