New show The Blacklist is good fun, but has an ace up its sleeve in the form of the mighty James Spader.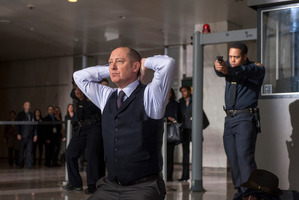 If you strip The Blacklist back to its most basic elements, you'll find that the show is essentially just another variation of the ubiquitous crime procedural. And while it tries to be fresh and edgy, it actually has far more in common with something like Castle or The Mentalist than its creators would have you believe.
While tonight's premiere episode was a little different, devoting a large amount of time to setting up the way forward for the remainder of the series, it's possible to see how future episodes will likely play out: career criminal Reddington will drop the name of one of his terrifying former clients, he and rookie FBI agent Elizabeth Keen (played by Megan Boone) will track this person down, and the episode will end with the capture of a terrorist or two and a nugget of the ongoing series mythology - namely, why did Red choose Keen?
End credits. See ya next week.
It isn't all that much different to something like Person Of Interest, which starts off with the selection of an unwitting target and ends with the capture of a criminal after a couple of twists and turns to keep us on our toes. And, hey, that isn't necessarily a bad thing to aspire to; done well, these crime shows can be really entertaining.
But The Blacklist has an ace up its sleeve - and it comes in the form of lead actor James Spader.
I've been a Spader fan for years, really coming to enjoy him as a television actor during his time on Boston Legal, a show which I still consider one of the best of the last decade. You can accuse Spader of chewing scenery or hamming up his performances; many critic have over the years. I choose to see him as a charismatic type, somebody who knows how to command a viewers attention and really dominate the screen.
And it's through Spaders performance as Raymond "Red" Reddington that The Blacklist jumps up to the next level of drama on television, leaving its crime procedural peers behind and taking a spot next to Banshee or Homeland.
In the hands of almost any other actor, the character would come across as a cartoon villain.
But Spader plays Reddington with the full force of his on-screen abilities. And as he fires zingers at his co-stars - "I think I smell the stench of your cologne," he shoots at one character, with every ounce of droll delivery he can muster. "It smells like hubris." - you can't help but take the guy seriously, even in the face of absurdity.
Even when he appears to be laughing at the almost ridiculous nature of his predicament, the character is always the most interesting person on screen. "I'm supposed to believe you?" Keen asks at one point. "Of course not," Reddington replies exasperatedly, "I'm a criminal!"
You get the sense Spader is having as much fun playing Red as we are watching. And, ultimately, I think that's what makes The Blacklist one of the most entertaining new shows of the year so far.
So many network/free-to-air dramas take themselves far too seriously - think about something like Revenge, which is melodramatic to the point of unwatchable. It's sad to say, but it's refreshing to have a big name star turning in a fun performance on a show which has its tongue planted firmly in its cheek in pursuit of pure entertainment.
The Blacklist is exactly that: it is a fun hour of television, elevated to the fringes of truly great television by the performance of its lead actor, James Spader. This is a relentlessly entertaining show - and I'll be back next week.