Organisers offer up a highly eclectic mix at Ascension Vineyard this year - and get the taste buds going.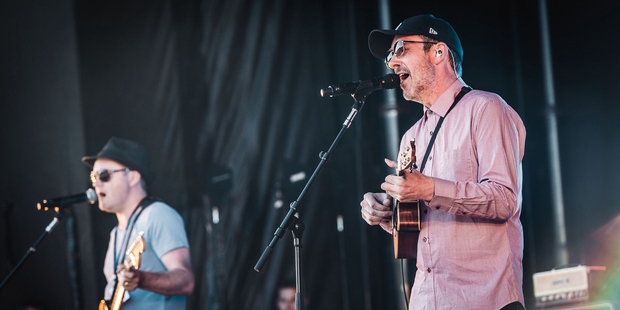 After seven years of rolling music through rows of vines all over the country, the Winery Tour has become something of an annual big night out for many. A balmy evening, beautiful scenery, an easy, family- friendly, civilised atmosphere, and a good drop or two of some local nectar - what's not to like?
And in the past few years, organisers have expanded their musical horizon with more adventurous line-ups - where the Winery Tour once was the domain of Bic, Brooke, Dave, Don and Opshop, now the genres covered could be considered rich varietals.
They've gone from sav and merlot to gewurztraminer, shiraz and even some bubbles.
On the surface, this year's acts may have seemed an unlikely mix to some - a chilled out electro pop group releasing their first album in nine years; a ubiquitous TV personality/actor with a huge voice to boot; and the nation's favourite pub rockers celebrating 30 years together.
But as corks were popped (or tops were twisted), and the sun began its descent, the line-up turned out to be a rather lovely blend.
Breaks Co-Op were a happily ambient start to the evening, opening with some appropriately summery, outdoorsy sounds, and front man Andy Lovegrove on ukulele. The all new live line-up, which comprised Paul McLaney on guitar, Mark Vanilau on keys, Andrew Keegan on drums, and Richie Pickard on bass, worked almost entirely from the just-released new album Sounds Familiar, and found the crowd receptive despite their lack of familiarity with the tracks.
The group had obviously put a lot of effort into turning the intricate, layered songs into live band material, complete with four-part harmonies, so it was a little frustrating that the sound mix wasn't what it could have been (sometimes the acoustic guitar parts were abrasively loud, sometimes the upper harmonies too dominant in the mix etc), but there were some promising new tracks to be heard nonetheless.
Current single Sounds Familiar, the almost Daft Punk/Get Lucky-ish track Moment In Time, and easygoing working man's anthem Throwing It All Away have strong ear-worm qualities, and of course a final rendition of 2005 hit The Otherside got a big crowd cheer.
There was a fairly large younger crowd contingent who were there to see Stan Walker, but he also got a huge number of the older generation up and dancing as he took to the stage with his four-piece band, three backing vocalists, and four-man dance troop.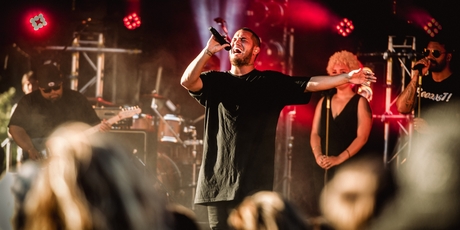 Walker doesn't really need all the bells and whistles to impress a crowd - his voice has such incredible musical presence, and he has such a sparkling stage personality that he could be up there with just a guitar and still carry the show. But the bells and whistles are great fun, and you can tell Walker loves to put on a big show.
A highlight from his set came as he gave the audience some instructions on how to do a body roll. "It's like grinding, but all by yourself ... like Beyonce or Rihanna, but not like Miley Cyrus. Don't do that kids, that's not nice.
"Roll with me if you've got rolls like me, roll with me if you've got rolls like a bakery."
And who could refuse that cheeky grin, really.
A Maori version of Don't Dream It's Over was another stand-out moment, as was an impressive duet with local songstress Ginny Blackmore. It's a new song they're still working on (possible titled Lucky), but it sounds like a hit already.
His speech about bullying (and heartfelt rendition of Bully) was a nice touch, and a final ramp-up through Make It Loud, Bulletproof and Take It Easy, proved what a consummate entertainer Walker is.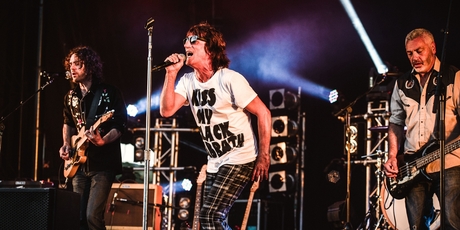 He was a hard act to follow, but The Exponents came out firing, with four original members (Jordan Luck, Brian Jones, David Gent and Michael "Harry" Harallambi), plus some extra guitarists for good measure, including Bret Adams (The Bads), and Bryan Bell (Dead Flowers).
Luck sounded as full and throaty voiced as ever, and the band was in great form, as they churned through their wide songbook, telling stories about women from Taupo, and tours with the Screaming Meemees.
Their Manchester-influenced Who Loves Who The Most got a whole lot of middle-aged people jumping around like they were 19 again; Nameless Girl proved they're just as good at romantic ballads; I'll Say Goodbye got voices soaring; and final one-two punch of Whatever Happened To Tracey along with Why Does Love Do This To Me created the ultimate party high. No one can sing them like Luck can.
The Classic Hits Winery Tour 2014 has 14 more dates to play around the country, including a show at Villa Maria Estate in Auckland on Saturday, February 15. See winerytour.co.nz for more information.
Live review
Who: Breaks Co-Op, Stan Walker, The Exponents
What: Classic Hits Winery Tour 2014
Where and when: Ascension Vineyard, Matakana, Saturday