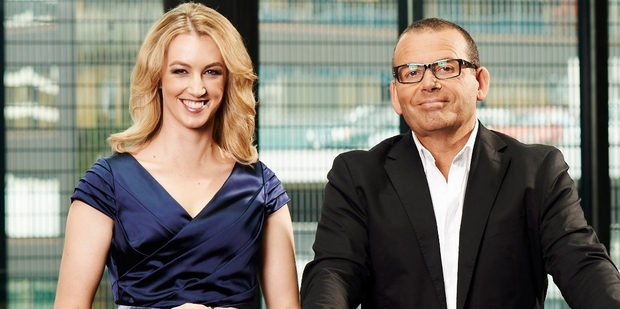 Janika ter Ellen - it's a name the 27-year-old has heard mispronounced too many times to remember. Jan-ika, Janeeka, Janataellen. Even Fiona.
As a kid in Tauranga she hated it, but as a journalist and now news anchor on a show that's also a bit different - it fits.
Like the name passed down from her Dutch grandfather, ter Ellen loves her new job on The Paul Henry Show. And its irrepressible host.
In the past week, Paul Henry has called her "hot" and asked her what she would do if she was Jesus. But ter Ellen has taken it all in her stride.
"I'm not worried about what he is going to say because he is a professional ... but he is Paul Henry," ter Ellen says.
Suited-up in a jacket one size too small, Henry begged his new recruit to lace his shoes. "He was like 'ooo this is too tight, I can't possibly do it. Can you tie my laces for me?' Of course he was joking but I said 'um, no way'.
I wasn't going to do that."
Despite the on-screen banter and laughs, ter Ellen said she has a deep respect for Henry.
Four years after completing a BA in politics and then a journalism degree in Wellington, ter Ellen was Henry's top pick for the show.
"We met for a couple of intense interviews and then went for a long lunch," the former Firstline and Nightline reporter said.
"The lunch was pretty much part of the interview and Paul has a theory that people get more truthful after a glass of wine and I had a glass and I did get more truthful."
The build up to the show was nerve-racking.
"You could see it on the first night but now we are a week in things are improving and it is a lot more fun."
Henry said ter Ellen was thriving.
"She spends far too much time critiquing her own work, and should instead be focused on what a great job she's doing. Please tell her that from me," Henry said via email.
Along with the serious side of the show, ter Ellen rates the "fun stuff", such as segments "What's Killing Me", when Henry picks at scaremongering stories, and "Nine in Ten", where people have to name nine things in 10 seconds to win a car.
Prime Minister John Key named four native birds on the first show but ter Ellen - a self-confessed chocolate fiend - passed her test by naming nine chocolate treats with ease. "Paul will love this but Snickers is totally my favourite," she says. Henry features in a Snickers ad.

• The Paul Henry Show, TV3, weeknights at 10.30pm.