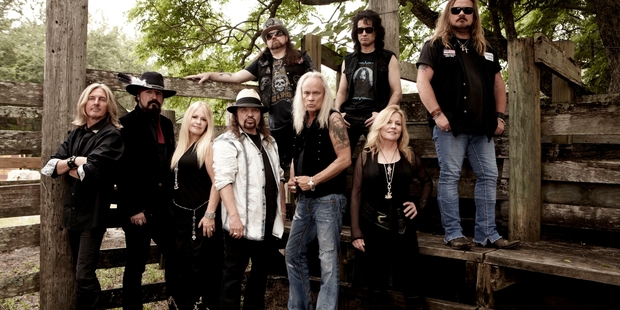 It has only taken 50 years, but American southern rockers Lynyrd Skynyrd can hardly wait to play their first gig on New Zealand soil.
The group have been together since 1964 and hit the big time in the 70s with classics such as Freebird and Sweet Home Alabama. Guitarist Gary Rossington is now the only original member left. A 1977 plane crash in Mississippi killed three of the band, including lead singer and founder Ronnie Van Zant.
Rossington says he doesn't know why the group has never played Downunder.
"For a band that prides itself on being Southerners, it's a bit ironic we have never ventured as far south at New Zealand or Australia," he said.
"I can only assume it is because nobody bothered to ask us.
"It has been a long time coming, but we can't wait to meet our Kiwi fans and finally get it on with them."
Lynyrd Skynyrd - with Ronnie's brother Johnny Van Zant on vocals - will tour here next month with Starship and 10cc. They will hit the Taupo Amphitheatre on February 8, Matakana Country Park ( February 9) and Queenstown's Gibbston Valley Winery (February 15).
Lynyrd Skynyrd recently released a new album called Last of a Dyin' Breed. But they will play all their hits on stage, Rossington insisted.
"It is the old stuff that people really want to hear when we play live, and they can get pretty emotional when we do the classics."
• We have a double pass for the Taupo show and two double passes for Matakana to give away. To enter, see winwithheraldonsunday.co.nz, and fill in your details with the keyword LYNYRD. Entries close at midnight on Wednesday, February 5.