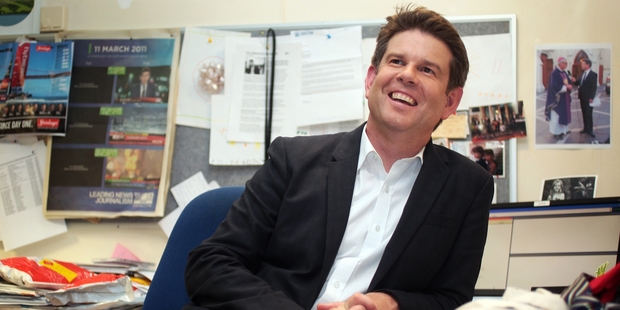 One is promising creativity and ideas will set it apart. The other vows to make people think - but not tell them what to think.
The battle lines are drawn in the race for 7pm current affairs viewers when rivals Seven Sharp and Campbell Live return tonight after the summer break.
Seven Sharp is back on TV One with a new line-up after a shaky last few weeks on air in 2013 that saw the departure of popular host Alison Mau and other staff, including its executive producer.
Newstalk ZB morning host Mike Hosking and former Breakfast presenter Toni Street will join Jesse Mulligan, the sole survivor from the original Seven Sharp.
The Campbell Live team kicks off its new season hoping to build on the gains made in 2013 in what host John Campbell believes will be a tough year in the ratings war.
"If you're given the 7pm slot and you're not motivated you must be insane," said Campbell.
"7pm is expensive rent, it's like having a shop in Queen St or Lambton Quay - you have to make a go of it."
Both shows will battle for supremacy - though the biggest threat to both remains Shortland Street - but they are at pains to play down the rivalry.
While the competition with Seven Sharp fascinates many, Campbell says it isn't something he obsesses over.
Last year, Campbell Live won praise for the campaigns it ran - such as food in schools and keeping a close watch over the Christchurch recovery. Campbell said viewers could expect similar initiatives this year, as well as scrutiny of political parties vying to form a government.
He said the show would also continue a strategy of trying to focus on stories it thought mattered and set the agenda that way, citing the Novopay debacle as an example.
TVNZ's current affairs show suffered criticism last year that it was lightweight, and it had fewer viewers than its predecessor, Close Up.
TVNZ head of news and current affairs John Gillespie said the Seven Sharp team was in the right place to build on the changes introduced last year.
"And along with the team, more importantly, our viewers tell us they are excited about the show's return. Our presenter line-up and editorial team will be giving viewers very good reasons to watch every night."
Hosking and Street were looking forward to their new roles. "I'll be finding out what it's like to work all the hours God sends," said Hosking.
Street thought the conversational nature of Seven Sharp would be similar to her former role on Breakfast. "The team has lots of fresh ideas for the 2014 show, I can't wait to start," she said.
Why you should watch Campbell Live on 3
"Over the past 18 months, Campbell Live viewers have helped us raise more than $750,000 for the people of the Philippines and $500,000 for our lunchbox day for hungry kids.
"Our audience is generous, kind and engaged but with a real thirst for information at 7pm.
"In 2014, watch us to see us interview the newsmakers. We'll continue to hold people to account, we'll advocate, we'll help viewers getting a raw deal, we'll ask questions, we'll inform, we'll investigate and we'll entertain.
"Expect the unexpected. We want the whole country talking about us."
- Pip Keane, Campbell Live executive producer
Why you should watch Seven Sharp on One
"In the words of Lorde, 2013 was just a warm-up. Seven Sharp was new and different at its debut, but it was an undeniable success, with consistent ratings growth across 2013.
"The new presenter line-up - Mike Hosking, Toni Street and the incumbent Jesse Mulligan - will influence the direction of the show.
"It is our intention to make people think, not tell them what to think.
"We will reflect the news of the day, the stories of the day - the ones our viewers are talking about - and examine them from a fresh perspective. We are proud ... This is a show about New Zealanders, for New Zealanders."
- Pete Cronshaw, Seven Sharp executive producer