The National stays down-to-earth despite the pull of stardom, writes Paula Yeoman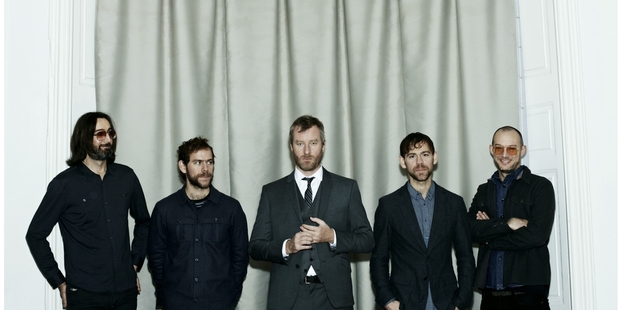 When The National first visited New Zealand in 2008, they played to a few hundred people at the Kings Arms in Auckland. In 2011, they upsized to The Powerstation. This time around they've super-sized, taking on the 12,000-capacity Vector Arena.
That says all you need to know about the slow-burning trajectory of this Brooklyn-based five-piece, responsible for masterpieces such as Alligator, Boxer, High Violet and last year's Trouble Will Find Me.
But what does it say for those steadfast fans who have followed The National since their early days and still want to see frontman Matt Berninger walk through the crowd and grab a beer from the bar, all the while still singing, as he did at the Powerstation three years ago?
"We definitely have to project what we do differently in larger places, we know that. It's obvious you can't just hover over your guitar and whisper," says bassist Scott Devendorf, who co-founded the band with Berninger in the 90s.
"We don't make arena-style rock, so it has been interesting to translate what we do to larger places. A lot of times we do that with video and lights. I don't think we've turned into Aerosmith, all flamboyant or something."
And that's very much the sense you get of The National - they're still a bunch of down-to-earth blokes who would play anywhere there was a stage. That's evident in the fact that they've managed to maintain considerable control over what they do.
Devendorf attributes much of that to family ties within the group - twins Aaron and Bryce Dresser, his own brother Bryan Devendorf and Berninger, who is practically family. "We have always done things ourselves. From the very beginning we kept a small organisation around the band," he says.
"It's very family-oriented, so far as everyone is related and most everyone has worked with us for five or more years now. So it's keeping everything small and keeping in touch with how things run - organisationally and musically." And you can expect to see some of that dynamic in the documentary Mistaken For Strangers, to be screened in Auckland the night before the band's Vector Arena show.
It was filmed by Berninger's brother Tom, hired as the band's tour manager for the High Violet tour before they realised it wasn't his forte. "It definitely captures some ups and downs for sure," laughs Devendorf. "For us, it was a joy to have him around, even though he's f***ing everything up."
Once he was relieved of his tour-managing duties, Berninger continued to film the band on tour. "Over time he started building it in to a proper storyline and a documentary that transformed into something that's about friends, family and brothers. It's touching. It's funny. It's a little sad. It's informative but it's not like a rock documentary. You definitely see the personality of the band," says Devendorf.
Mistaken For Strangers screens at Event Cinemas on Queen St at 7pm on February 3, where Matt Berninger will attend for a Q&A session. The National play the Vector Arena in Auckland on February 4.