Paula Yeoman talks to Vance Joy about his whirlwind year.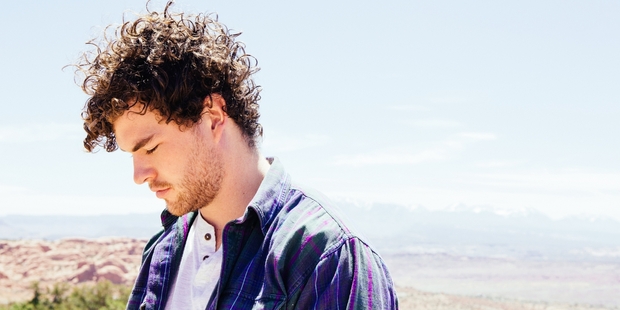 It's always a given that at least a handful of acts at the annual Laneway Festival are teetering on the cusp of big things; that tipping point where things are about to go boom. This year, Vance Joy is among them.
The Melbourne singer-songwriter (real name James Keogh) has just come off the back of an incredibly successful 12 months, during which he toured the world, signed a five-record deal and saw his catchy folk-pop tune Riptide named bestselling Australian single of 2013.
And 2014 isn't off to a bad start either. The song has also just cracked the top 40 in the UK.
"It's crazy news. I remember looking at that song a couple of years ago when I put it up by myself on YouTube and I used to count the views and it was really small stuff. I was stoked when it had a thousand views."
For Keogh, it was a rewarding - yet challenging - year, in which he had to get used to the nomadic life of a wandering musician.
"I was rooted in my ways in Melbourne and used to a certain chilled approach to life," he says of life before he was spotted when he posted his home-made video of Riptide online.
"I ended up spending most of 2013 on the road, which was a real shift in the way I went about things. It was something I really enjoyed but I had to adapt to it. It's hard to find that relaxation when you're always moving around and living out of a backpack."
But after his baptism by fire, Keogh is not about to rest on his laurels. He's nearing the finishing stages of his debut album, which he says takes a few twists and turns, if you compare it to his EP God Loves You When You're Dancing.
What's more, there is no Riptide on the record.
"I am so grateful I wrote that song because it's started everything for me. But I don't think there's another. That's a unique song, you know, all those different variables aligned and they struck a chord. But I'm happy to stand by these news songs. I think they're all of a good quality."
And it'll be New Zealanders at tomorrow's St Jerome's Laneway Festival who are among the first in the world to hear the new tunes.
Despite being from Melbourne, where the festival originates, Keogh has never been - not even as a punter. But he's heard only good things and can't wait to tour with the other bands on the bill, including Haim, Cat Power and Chvrches.
"It's one of the highlights - making friends with people when you're on the road."
St Jerome's Laneway Festival will be held tomorrow at Silo Park in Auckland. Vance Joy kicks off the action at 12.30pm on the Mysterex Stage. Gates open at 11.30am.