Three plays in the NZ Festival take events from the past and use them to explore our place in the world. Dionne Christian reports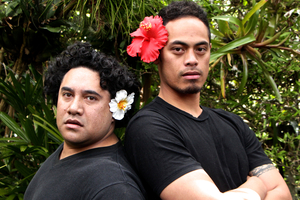 Whales and waka drifting over 19th-century Parisian streets, a Spanish whaler with 16,000 part-Maori descendants, and a Destiny Church protest against the Civil Union Bill: these are the sources local playwrights have drawn on to tell stories which will be seen and heard at the New Zealand Festival in Wellington.
The festival features three home-grown theatre productions, although choreographer Lemi Ponifasio's genre-crossing The Crimson House and Stone In Her Mouth are also in the same section.
Stuart Hoar's Pasefika, directed by Susan Wilson and running for almost the entire duration of the festival, blends Parisian sensibilities and South Pacific culture in a story based on French sailor and artist Charles Meryon.
Meryon sailed to New Zealand in 1842 aboard a naval ship sent to protect the French settlement at Akaroa. He spent four years in the Pacific and, returning to Paris, established himself as an etcher, making black and white prints because he was colour-blind and could not work with other shades.
Hoar's interest in his story was sparked by one of Meryon's artworks that features Le Ministere de la Marine (the Admiralty building in Paris) with waka and whales floating above the Parisian streets.
Describing it as an obvious example of cultural exchange, he set out to learn more about Meryon, whose statue is on Rue Lavaud in Akaroa.
"Meryon was building a new synthesis out of different cultures and I was interested in how artists play a role in this process as well as ideas about modernity at the time," says Hoar.
After becoming the Katherine Mansfield Fellow in 2007 - which gives New Zealand writers the chance to work at the Villa Isola Bella in Menton, France - Hoar immersed himself in the culture, travelled to Paris and concentrated on the script for Pasefika.
Hoar wrote the script, which he says is fluid and impressionistic, to reflect Meryon's etching style, with George Henare in mind to play the roles of French poet Baudelaire and a Maori chief. Hoar says he doesn't usually write with an actor in mind but Henare was an obvious choice, and was interested in the subject.
Although it won the Adam New Zealand Play Award in 2010, Pasefika has not had a full professional season until now and Hoar says it's an honour for it to be included in the festival.
"It has taken a long time to get the play up but that's how it is with playwriting, especially if you're not putting it on yourself. If you want to do something quickly, write a novel."
Briar Grace-Smith's new play Paniora! also combines fact and fiction to tell a distinctly New Zealand story that, like Pasefika, has a European undertone.
In 1835, Manuel Jose de Frutos Huerta, born in 1811 in the small Spanish town of Valverde del Majano in Segovia province, emigrated to New Zealand while working as a whaler. He married five women of Ngati Porou descent, starting the Paniora (Maori-Spaniard) lineage that has grown to about 16,000 descendants.
Directed by Colin McColl, Paniora! is set in the made-up East Coast town of Taiawa, home to Te Mamaenui Martinez, the oldest living descendant of Papa Carlisto Martinez. Her family speaks Spanish, cooks tapas and dances the flamenco but there are fears that when she dies, so will the unique culture of the Paniora.
To reignite that part of their culture, one canny local decides to organise a bullfight. Staging and choreographing the bullfight was one of the biggest challenges that faced McColl, in a play replete with magical realism.
It stars Nancy Brunning, Kirk Torrance, Hera Dunleavy, Barnie Duncan, Calvin Tuteao and Taiaroa Royal, with choreography by Taane Mete of the Okareka Dance Company.
Victor Rodger's Black Faggot was inspired by more recent events. Rodger said it was his response to protests against New Zealand's Civil Union Bill, particularly the Destiny Church march opposing the law change.
"Seeing fathers and sons together, and just knowing that at least one of those sons would be gay and feeling quite tortured about that, I wanted to write something and to present a whole bunch of characters that might not necessarily have been seen on the New Zealand stage before," he says. "I always knew I was writing a comedy, even though I was quite angry at the time. Then again, a lot of what I write is an 'angry response' - anger can be a great catalyst."
Iaheto Ah Hi and Taofia Pelesasa play a collection of characters who include a Christian, a Samoan teen from South Auckland desperately trying to hide his homosexuality from his devoutly religious family.
Rodger says the work is not autobiographical and his family has always been supportive, although his mother doesn't like the swearing in his plays: "She always says, 'I didn't raise you to talk like that!"
But Rodger has won the hearts of audiences who have seen Black Faggot at the Auckland and Melbourne Fringe Festivals, where it has collected multiple awards. He believes many people can relate to the story of an outsider, as well as the humour.
"I've never had a play which has been so embraced; it's like a gift that keeps on giving but I had a lot of self-doubt around writing it," he says. "It started life as a bunch of connected monologues but it was director Roy Ward who encouraged its development and found the story to hang it on.
"I owe Roy a lot."
Shelagh Magadza, said selecting local plays was a challenge because home-grown theatre has been booming, fuelled by writers who are among the best in the world.
New Zealand-born Magadza says our playwrights are "hugely capable" (and backed by equally talented casts and crews) so she faced tough decisions about what to include in the programme and has seen a number of scripts that she hopes will one day be produced.
"I think we've always had a strong literary tradition in this country possibly because, along with our visual artists, writing draws on very unique imagery and was an important way to grapple with our sense of place in the world. A lot of the work we're seeing moves away from a broad look at New Zealand history and reminds us that it frequently hangs on person-to-person points of view and encounters.
"It's great to see a playwright like Victor Rodger who takes on quite challenging material and isn't afraid to go there. It's completely filthy but you're laughing so hard you forget what you're hearing."
However, Magadza, who started her career in the early 1990s at the then-NZ International Arts Festival, says more "hard infrastructure" is needed to maintain momentum, including resources to develop scripts, the chance for plays to be performed for more than one season so work can mature, and a stronger national touring circuit.
New Zealand Festival
What: Pasefika
Where and when: Circa Theatre, Wellington, February 22-March 16
What: Paniora!
Where and when: Soundings Theatre, Te Papa, Wellington February 26-March 5
What: Black Faggot
Where and when: Downstage Theatre, Wellington, February 25-March 1