P-Money, Alisa Xayalith and Rodney Fisher give us a guided tour of the new-look Big Day Out.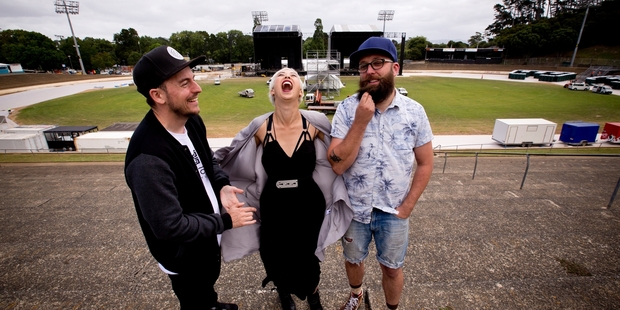 Driving around the new Big Day Out site at Western Springs with three local artists, there's a general sense of being impressed by the scale and layout.
The stages look even larger than anyone remembers from Mt Smart Stadium; there's the promisingly grassy looking fields to sprawl out on; and the view from Chow Town - the row of high-class food vendors - is one of the best.
You'll be able to see the main stages (Kowhai and Tui), and the two field stages (Aroha and Tamaki) simultaneously while you wait for your beef brisket po' boy or New York cheesecake.
And if you want to take time for cultural reflection, you can chill out in the Metro Cube, which will host more intimate local artist performances as well as a live magazine, or you can take a walk around the art trail.
Yes, the new Big Day Out is fancy, and even the artists admit they won't be spending all their time hanging out back stage.
"This definitely looks better. Way more excellent." P-Money smiles.
"It's better than I was imagining in my head. Just walking around a bit, it looks cool," Rodney Fisher from Goodshirt agrees. "For some reason I thought everything would be quite far apart, and you'd have to do a lot of walking. It's really nice being surrounded by trees and houses, and I think there will be a good vibe in town afterwards with it being closer."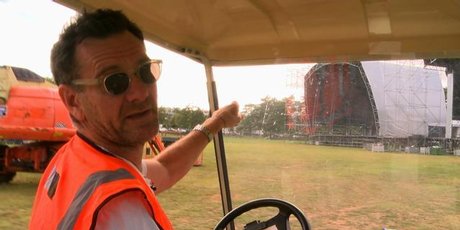 The Naked and Famous' Alisa Xayalith has been playing a lot of international festivals in the past couple of years, and she agrees. "It's gonna be awesome, even just the fact that there's lots of grass, lots of trees, it always makes a difference when the environment feels this green, instead of being in a concrete jungle. I think that adds to the festival experience - makes it more dreamy."
All three are Big Day Out veterans, not just as punters, but as local artists working their way up.
This will mark the third BDO appearance for Xayalith; Fisher thinks this could be performance three or four for him as well, though his first as a solo artist; and P-Money is well-seasoned with seven performances at Mt Smart.
"I've played on everything from the little local stages, to the main stage at the old venue. And this time I'll be on the Lakeside stage which looks awesome, in among the trees next to the lake" P-Money rubs his hands - and don't worry, there are lifeguards on hand should anyone get a little carried away.
It's the first time The Naked and Famous have graced the main stage (2.35pm), which is an exciting prospect for Xayalith, particularly as it's their first performance at home in two years, and the first since they released In Rolling Waves.
"I remember the first time we played Big Day Out, it was on the Green Stage, it was early in the day, and then the second time, we played the Aussie tour as well, and then yeah, third time round, main stage! Woo! I hope it will be a nice homecoming for us. We'll be playing all the hits, from both albums."
Fisher meanwhile will be beguiling punters with just his voice, and guitar, and a swag of new songs, in the more relaxed and cosy surrounds of the Metro Cube stage (7.30pm).
"I decided to be tough, and to play by myself rather than get a band in with me" he laughs.
"I guess I can be a bit more open that way, more dynamic. I've been playing a lot of little folky gigs on Sundays in a row for the last six months, so I guess I feel quite comfortable playing on my own at the moment."
An intimate, enclosed stage is a new concept for the BDO, but one that's likely to feel like a good idea come 7pm when you just need a little respite from the hours of high-energy rocking.
They're clearly happy with the festival rebooting at what is, after all a historic Auckland concert venue, and hopeful this is where the BDO will stay in coming years.
"It feels right here, it feels like the right place for this event. It looks right," P-Money nods. "Friday here we come."
OTHER STUFF TO DO AT THE BIG DAY OUT
Yes, there's plenty of music on offer. But you'll need to take a breather at some stage. Use TimeOut's handy checklist to partake in some of the festival's other offerings.
Fire up your belly: You'll have to eat at some stage - and at this year's Big Day Out there are more options than ever. That's thanks to Chow Town, a showcase of Auckland's "rock star" chefs who will be serving pulled wagyu beef rump, spit-roasted pig with granny's pickles, and baked New York-style cheesecake for dessert. Hot dogs and chips? Just say no.
Practice your art face: If things start getting too noisy, head along to the Art Trail. Compiled by Art in the Dark duo Celia Harrison and Ella Mizrahi, it promises "eye-popping installation artworks, light works and special effects". Like their hugely popular annual Ponsonby installation, you might might want to take it in after nightfall for the full experience.
Grab one out of the box: Replacing the event's Lilypad stage this year is the Metro Cube, a stage supported by the Auckland-based magazine that promises short films, "live" pop-up versions of the magazine and performances by Iva Lamkum, Tom Lark & Lydia Cole and Rodney Fisher, among others. Watch out you don't end up in the mag's social pages - they're known for their awkwardly candid snaps.
Take in the seaside views: The Lakeside stage might be out of the way - but it's worth frequent visits. It's got a stellar line-up of Kiwi acts, including Randa, Kody Neilson, SJD and Ladi6, plus you might even get some ocean breezes from the lake next door. Okay, so it's not that big, but if it's gonna be a hot one, it's the best we can do for you.
* nzherald.co.nz will have full coverage of tomorrow's event, including updated reviews, videos and photos. Tune in throughout the day to see how it's going.
- TimeOut