The Hives are back for another frenzied 'human to werewolf' round on the BDO main stage. They talk to Chris Schulz.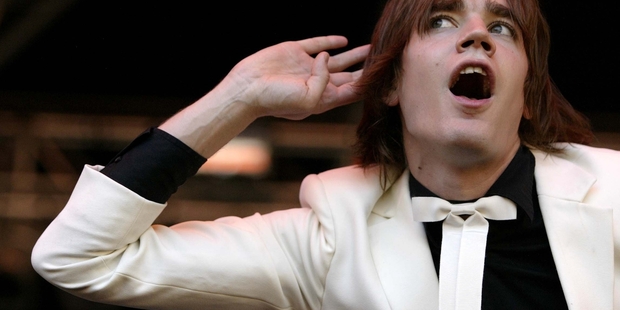 The Beastie Boys. The Chemical Brothers. Slipknot. And System of a Down. Yep, back in 2005 the Big Day Out featured some very big names on its bill.
But five skinny lads in tailored black-and-white suits stole the show that hot summer January day - delivering the kind of unhinged, sweaty and completely unexpected late afternoon set that is still talked about as one of the festival's best moments.
With their brand of oddball humour and frenetic punk-rock delivered in searing two-minute bursts, Swedish rockers The Hives are threatening to do it all over again when they hit the festival's main stage tomorrow.
"It all comes from playing the music. We're pretty calm guys during the rest of the day, but there's something about playing our music on stage that makes us go apeshit," front man Howlin' Pelle Almqvist laughs down the phone to TimeOut.
"It's when the first couple of notes ring out that the transformation happens, from human to werewolf."
It's an apt description for the band's on-stage attitude. But Almqvist admits their antics often leave the five-piece - including his awesomely named band mates Nicholaus Arson, Vigilante Carlstroem, Dr Matt Destruction and Chris Dangerous - "gasping for air" in their dressing room.
"The preparations themselves are not that complicated. We just stand around in a circle hitting each other a little bit. You just need to get the blood pumping before you hit the stage.
"When we're on tour we try to play every day. It is very tiring - but it's worth it."
Despite their fizzing energy, jackhammer riffage and singalong sloganeering - all together now: "Hate to say I told you sooooo ... ALRIGHT!" - Almqvist says there's only one instance when a concert has gotten out of hand.
"I was once climbing the lighting rig and I tried to jump back on stage. I slipped on a cord, flew off stage and knocked myself out. It was the fourth song. I passed out, woke up, and finished the show, which wasn't a good idea. Apparently, if you have a concussion, which I did, you're not supposed to be around loud noises or bright lights."
Considering The Hives' style of playing one knock out song after another, it's an ironic accident. And there's been little respite over their quarter century career that's resulted in five albums, including their hugely popular 2001 compilation, Your New Favourite Band, that came out at the beginning of the garage-rock revival, and included anthems Main Offender, Die, All Right! and AKA IDIOT.
They've tried a few different guises since then: 2004's Tyrannosaurus Hives was a furious 29-minute assault that flew by on double time, while hip-hop and pop producers The Neptunes helmed their ambitious 2007 album, The Black and White Album, which sparkled with studio sheen.
Their underrated last album, Lex Hives, from 2012, was a more straightforward rock record that was released independently, and included the stunner Go Right Ahead.
Over that time, the band's line-up hasn't changed, something Almqvist puts down to their early high school friendship.
"We had a band a long time before we were successful. We formed in high school and we had five years to get to know each other before we went on tour. We would get into arguments and we couldn't get rid of each other, so we had to make up. We've got a pretty solid foundation of friendship.
"Also, we don't live in the same city anymore. That's how you stay together - you live really far apart."
And Almqvist - who is prone to finishing his responses with a punchline - says they're not done yet.
"We're imagining a really long career here you know - at least another 20 (years). We haven't gotten past the point that rock'n'roll is a kids' game."
Who: Swedish garage-rockers The Hives
Where: Big Day Out 2014
When: Friday, January 17, 4.15pm, Tui Stage
Essential listening: Your New Favourite Band (2001); Tyrannosaurus Hives (2004); The Black and White Album (2007).
* nzherald.co.nz will have full coverage of tomorrow's event, including updated reviews, videos and photos. Tune in throughout the day to see how it's going.
- TimeOut