Despite shunning a support slot on Rihanna's world tour, The 1975 can't wait to wow the BDO crowds. They talk to Hayden Donnell.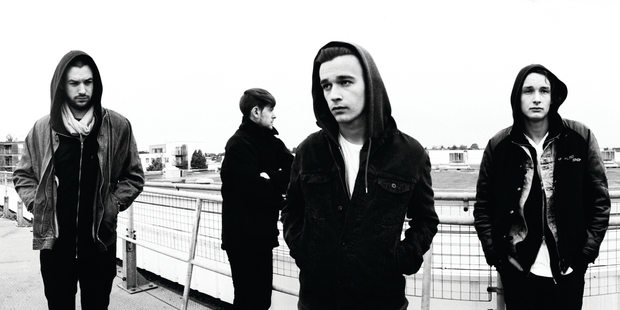 The 1975's frontman Matt Healy doesn't hesitate when asked why people should see his set at the Big Day Out.
"We're the best new band in the world."
That might sound big-headed, but Healy says you have to be self-assured to succeed in music.
"It isn't arrogance. There's no point in not wanting this to be the biggest band in the world. We've always been the best band in the world in our eyes and we always want to be. It's not an arrogance."
He has reason to feel confident. The Manchester four-piece has risen fast since releasing Facedown - the first of four EPs - in 2012 leading to September's self-titled debut album.
They started playing together a decade ago, after Healy and drummer George Daniel met at high school in Wilmslow.
Over the next few years they played in old people's homes, on pub stages and in friend's living rooms, performing as Talkhouse, The Slowdown, Bigsleep, and Drive Like I Do, before eventually settling on The 1975 moniker.
"I've seen George every day, minus 13 days in the past 10 years. When he dove straight through a Portaloo during our first rehearsal I thought - yes, this is the guy I want to spend the rest of my life with," Healy says.
Though growing up in the Manchester area, the band don't sound much like anything that has emerged before from an area that's generated some major names in Britrock.
"We're not inspired by what's been going on over the last 10 years."
Instead, he says The 1975 are influenced by R&B, soul and other "black music". That comes through in the R&B-tinged groove of Chocolate - the band's first song to hit the top 20 of the UK music charts - and other tracks.
Despite the band's rapidly growing popularity, Healy is wary of the trappings of international recognition.
He recently turned down a support slot on Rihanna's world tour because it didn't fit with his "vision" for the band. "That's a lot more important than going around the world and getting high with Rihanna."
Healy's suspicion of the spotlight comes in part from his experience of growing up with famous parents.
He saw his mum - Coronation Street star Denise Welch, who played Natalie Barnes in the soap in the late-90s - battle alcoholism and depression as she struggled to deal with fame.
"My parents were famous and I never really liked that. I sort of kicked back against it."
Who: The 1975
Where: Big Day Out 2014
When: Aroha Stage, 1.45pm
- TimeOut