Lone Survivor takes US$38.5m in first weekend as tale of Navy SEAL mission scores hit.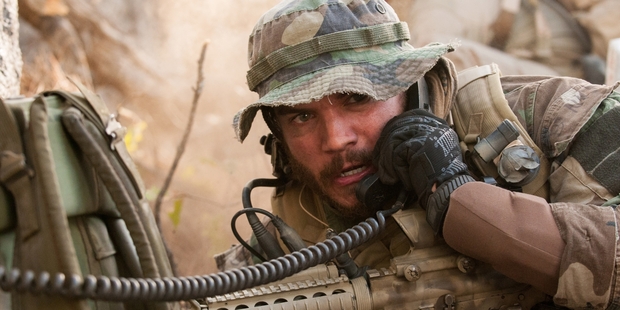 The movie Lone Survivor has come out shooting at the North American box office.
The patriotic US Navy SEAL drama starring Mark Wahlberg, Taylor Kitsch, Emile Hirsch and Ben Foster smashed expectations to earn US$38.5 million ($46.25 million) in its first weekend in wide release, according to studio estimates.
The Universal film directed by Friday Night Lights and Battleship film-maker Peter Berg is based on Marcus Luttrell's memoir about a dangerous mission his Navy SEAL team faced in Afghanistan in 2005.
"It's an amazing result," said Nikki Rocco for Universal.
In its eighth weekend, Disney's icy animated tale Frozen stayed cool in second spot, earning US$15 million and bringing its domestic total to US$317 million, passing Disney Animation's US$312 million record set by The Lion King in 1994.
Paramount's controversial The Wolf of Wall Street scored No3 in its third weekend, earning US$9 million and boosting its total domestic haul to US$78.6 million.
The hedonistic tycoon drama directed by Martin Scorsese stars Leonardo DiCaprio as reckless stock broker Jordan Belfort.
Lionsgate's The Legend of Hercules, the weekend's only other major release, tied with Sony's American Hustle for the No4 position, with both films earning US$8.6 million.
American Hustle, whose domestic total stands at US$101.5 million, featured heavily among the winners at yesterday's Golden Globes.
Box office earners

Estimated ticket sales for US and Canadian cinemas:
1. Lone Survivor, US$38.5 million.
2. Frozen, US$15 million.
3. Wolf of Wall Street, US$9 million.
4=. Legend of Hercules, US$8.6 million.
4=. American Hustle, US$8.6 million.
6. The Hobbit: The Desolation of Smaug, US$8 million.
7. August: Osage County, US$7.3 million.
8. Saving Mr. Banks, US$6.6 million.
9. Paranormal Activity: The Marked Ones, US$6.3 million.
10. Anchorman 2: The Legend Continues, US$6.1 million.
- AP