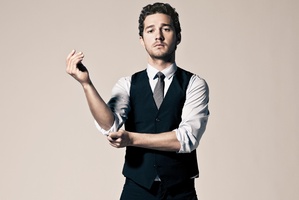 Shia LaBeouf spent US$25,000 (NZ$30,000) to have part of his retirement announcement penned in the sky.
The 27-year-old actor, who claimed he was retiring from "public life" yesterday after being criticised for recently hiring a skywriter to apologise for plagiarising author Daniel Clowes' graphic novellas, Justin M Damiano, for his short film HowardCantour.com, commissioned another fleet of planes to write the words "Stop Creating" in giant letters above Los Angeles, shortly after he posted them on Twitter.
A spokesperson for the skywriting company Skytypers told gossip website TMZ.com that Shia's people contact them yesterday morning and they dispatched five planes for the job.
The message took up five miles in the sky and was only legible for approximately seven minutes.
The Nymphomaniac star announced he was taking a step back from the limelight yesterday morning after a tough few weeks.
He wrote: "In light of the recent attacks against my artistic integrity, I am retiring from all public life."
He added: "My love goes out to those who have supported me. #stopcreating."
The Transformers star came under fire, including from Girls star and creator Lena Dunham, after he employed a team to write a message in the sky above Los Angeles on New Year's Day reading "I AM SORRY DANIEL CLOWES," in an attempt to make peace for plagiarising the comic book writer's work.
- Bang! Showbiz