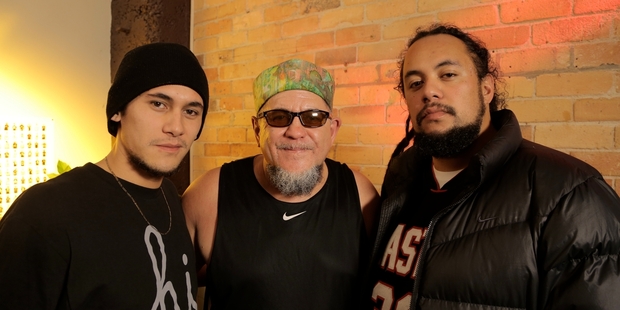 When Kiwi reggae act House of Shem released their debut album Keep Rising in 2008, they did so with the hope of spreading a message of peace and unity.
Five years on, the message on their recently released third album, Harmony is still the same - it's just a little louder and more urgent. "We're still spreading the same message to the people," explains Te Omeka Perkins, who fronts House of Shem with his father, local reggae legend, Carl Perkins, and his brother Isaiah.
"That's our main work. It's not about trying to get a Vodafone music award or anything. It's about being real about what's going on today. We need harmony in the world right now, and that's why we've called the third album that."
Perkins admits there is a fine line between staying true to the message and giving in to commercial pressure. But he feels the band has stuck to its guns with Harmony, which is packed with lyrically powerful, so-called socially conscious tunes such as Fight For Freedom, Hard Road and the title track.
"It is hard, because we're sitting here struggling. And you know, we could have done a whole album full of love songs and radio hits if we wanted to. We've proved we can do that in the past. But I don't want my kids to be hearing an album full of just that in the future."
That's not to say House of Shem has turned its back on love songs. Perkins says he is also incredibly proud of the breezy, uplifting opening track Take You There, which is the work of his younger brother Isaiah.
"Being the youngest out of the three of us, he's got a lot of potential for the radio stuff and he always has from the beginning. So I said to him, 'On this album, you've got the chance to bring that youth element out'. But it is a cut-throat industry and it is hard. We found that with booking shows this time around. That's why we're branching out abroad," says Perkins, referring to a distribution deal the band has just signed with a large international reggae label, which will take them to the States in April, and hopefully on to Europe.
Until then, House of Shem will spend the next few months in New Zealand doing all they can to keep spreading their message of love.
"We get people asking for Fighting For Freedom at our live shows and that's awesome. The thing that people are saying to us at gigs is that we're uplifting them through our message of black, white, brown uniting together, in that one place, at that one time. That's the main thing that makes me happy with what we're doing," says Perkins.


House of Shem's new album Harmony is out now. The band will perform at Mangawhai Tavern on January 26. For more dates visit www.houseofshem.com