Even naughtiness gets boring sometimes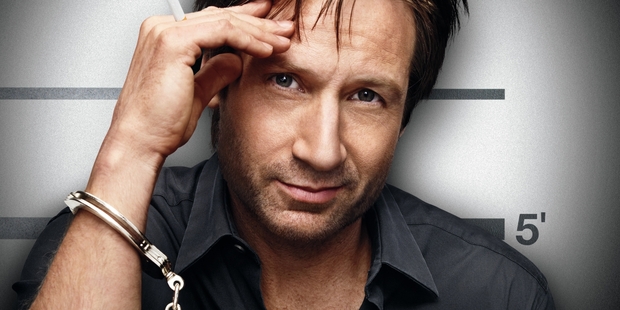 Who would you rather hang out with: Alfie Wickers from Bad Education (Thursdays, 9.30pm, UKTV) or Hank Moody from Californication (Thursdays, 9.30pm, Four)? Once it would have been Hank, hands down. He's cool, he's a writer, he's David Duchovny. That was in the days when the Showtime comedy was funny and fresh. It didn't stink of booze. There was no whiff of things going "off". But in much the same way film fans have cottoned on to the Manic Pixie Dream Girl archetype, Hank Moody, with his effortless access to women and nonchalant modus operandi, has come to represent the Chilled Alpha Dream Guy, a bad boy from a bygone era. Hank was a (not very) grown-up Vinnie from Entourage, in a time when LA types could get away with having more swagger than sense. But as the seasons progressed it was hard to shake the feeling he was really just a sad Peter Pan (even for David Duchovny), designed to appeal to guys keen to live vicariously. My interest in Californication, initially sparked by the irreverent dialogue and glossy world in which he thrived, soon waned.
Now, at the penultimate sixth season, could they still be milking Hank's flawed but roguish appeal? Yup, and they're plunging him into a rock star world that feels like something from the 90s.
This time he's apparently hit rock bottom, driven to the bottle after his ex drugged him so it's off to rehab he goes. Hey, it's Californication so Hank doesn't care. He reckons he's a "drug and alcohol enthusiast" rather than an addict. But even he couldn't have come up with the conveniently serendipitous set-up in which he found himself working with rock star Atticus Fetch, (Aussie Tim Minchin, reduced to a kohl-eyed, coked-up cliche) then shacking up with a guitarist's "muse" (aka groupie) Faith in rehab, while Karen got a job (while stoned) working for Fetch. So far, so meh.
At the other end of the spectrum you've got Bad Education's Alfie Wickers, (played by the flamboyant Jack Whitehall, also the co-writer). Unlike Hank, Alfie struggles to close the deal, trying in vain to seduce fellow teacher Miss Gulliver, turning up to the first term with an "Amish redboy" bowl cut, smacking the vending machine repeatedly (before realising she's yet to put in her coins), and winding up naked in public, a prospect no doubt appealing to Hank. Hank would also approve that Alfie bribes the students with beer. And he's used to one of the chicks in the class throwing herself at him.
But unlike Californication, Bad Education isn't too cool for school. It's set at a school, with a self-conscious, Green Wing-style sense of humour that feels, at best, stagey and hysterical, and at worst, a grating collision between toilet humour, race jokes and juvenile physical stunts. In the first episode of the second season, Alfie's students were challenged to a synchronised diving contest, which meant ample opportunities for zeitgeisty references: Speedo shots, moobs jokes and a teacher with camel toe. A scene in which one of the teachers lit a faux Olympic torch to start the contest, inexplicably descended into a parody of the Ku Klux Klan. It's just a shame the students are cliches themselves, (the Chinese academic, the working-class troublemaker, the flirt) because Bad Education has some genuinely funny moments.
"Jing," he said to the Chinese student, "learning is a lot easier if you don't ask any questions."
True, neither of these comedy slackers are going to grow up in a hurry. Perhaps it's time to get the funny ladies back on the air.
- TimeOut