Guitar player David Krahe answers a few questions on behalf of Spanish party band Los Coronas on their first visit to New Zealand.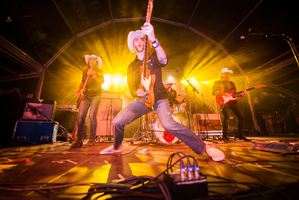 What was the first piece of music which really affected you?
A cover of Blue Suede Shoes in Spanish by Moris, an Argentinian singer.
Any interesting, valuable or just plain strange musical memorabilia at home?
Hundreds of gig tickets that I've collected during my life, a lot of cool pictures, picks, signed sticks, signed posters ...
What are you reading at the moment and what's currently playing on your iPod/record player?
The Guermantes Way by Marcel Proust, and The Soft Boys are on my record player.
You had a busy 2013, releasing two albums, Adios Sancho and El Extrano Viaje, what's on the horizon for 2014?
We may do some recording later in the year, but the whole line-up of Los Coronas have another project called Corizonas, where we have a singer and the music is kind of folk-rock oriented.