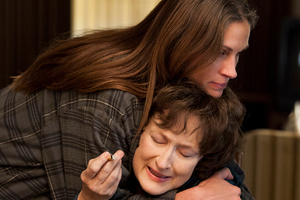 Verdict: Stagey but classy.
The toast of Broadway in 2008, the same year it won the Pulitzer Prize for Drama, Tracy Letts' jet-black comedy was as big as the Oklahoma plains on which it was set, a gruelling three-hour, two-interval family meltdown from which audiences emerged shell-shocked.
The screen version, whose director Wells gave us the glib and generic redundancy melodrama The Company Men, trims it down to a pretty digestible two hours. (It would have been even shorter if the entirely redundant last 10 minutes had been excised; watch for the moment when Meryl Streep walks up the stairs and resist the temptation to scream Cut!). But it's safe to say that what is left is more black than comedy.
It's as stagey as hell, though that's much of its appeal, and it is notable for another bravura performance from Streep, here playing Violet Weston, a poison-tongued matriarch who - irony alert - has been diagnosed with mouth cancer.
Her Great Plains clan reunites after the disappearance (and subsequent death) of one of its members.
A happy family this is not: in a prologue, father Beverly (Shepard) hires a housemaid to look after Violet, whose "pill-popping is getting in the way of my drinking". Two of the three daughters - jaded Barbara (Roberts) and ditzy Karen (Lewis) - join their long-suffering stay-at-home sister Ivy (Nicholson), along with Violet's sister (Martindale), her husband (Cooper) and assorted hangers-on. In the ensuing reels, particularly in a central 25-minute dinner-table set piece, skeletons are hauled out of various closets and piled up to have their bones picked over.
You may think you've seen family dysfunction in sweltering heat before - the script hints as much with a line in which one character tells another "don't go all Carson McCullers on me" - but of its kind, it's a pretty impressive piece of work.
As an ensemble piece that belongs disproportionately to two characters, Violet and Barbara, it feels a little lopsided at times, especially when Streep is eating the scenery. But Roberts' textured and thoughtful Barbara confirms my long-held belief that she's a very good actor whose beauty has trapped her in many bad roles.
Cast: Meryl Streep, Julia Roberts, Juliette Lewis, Chris Cooper, Margo Martindale, Sam Shepard, Julianne Nicholson, Abigail Breslin, Ewan McGregor, Benedict Cumberbatch
Director: John Wells
Running time: 121 mins
Rating: M (offensive language, drug use, content that may disturb)