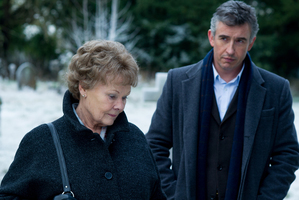 The true story behind this British drama is stranger than fiction. Judi Dench plays Philomena Lee, an Irish-Catholic woman searching for her son, Anthony. More than 50 years before, Irish nuns who enslaved Philomena and other young single mothers sold Anthony, 3, to an American couple against Philomena's will. Hearing about her story, former BBC journalist Martin Sixsmith (Steve Coogan) helps her search for Anthony, hoping for a publishable article. (He later wrote the book this film is based on).
On their road trip, Philomena becomes part tragicomedy, part buddy film. Some lovely situational comedy springs from the contrast between Martin, a cynical, sophisticated atheist, and Philomena, a devout, trusting working-class woman who likes romance novels and those little bready things on her salad. In an Oscar-worthy performance, Dench gradually peels back Philomena's layers, showing intuition and mettle to rival Martin's intellect. Coogan, as usual, is hilarious. What could have been a sappy, self-pitying tale is anything but thanks to assured direction by Stephen Frears (The Queen), a lively script that Coogan co-wrote, and a powerful ending that skewers the religious who choose hate over heart.
It's hard to fault a film that made me laugh and made me cry.
Rated M, 94 minutes. Out now.