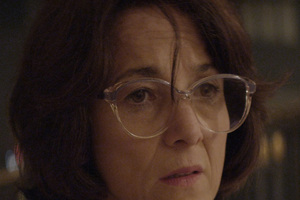 Verdict: Mature film about mature love.

This Chilean film, that country's Oscar entry for next year, is that rarest of things: a film in which the ambiguities and uncertainties of post-divorce life are taken seriously rather than milked for sentiment or laughs.
Writer-director Lelio is a generation younger than the characters he has created here, but he has a sure feel for their frailty and a great eye for their beauty as well.
Garcia, best actress winner at Berlin, is a fiftysomething office worker, putting a toe in the romantic water after being divorced for more than a decade. An economical opening few minutes sketch out her life so precisely that we feel like we have known her for years: she makes the running in the relationship with her adult children (Fontecilla and Zamora); her solo apartment life is complicated by the bipolar dopehead upstairs whose hairless cat seems to have adopted her; and she goes to singles bars for the more-mature, even though her heart's not in it.
Things seem to be looking up when she meets the charming but slightly hangdog Rodolfo (Hernandez), who is much more recently divorced. He's plainly made great changes in his life, but there are connections to the past that are both hinted at (in the antique ringtone on his cellphone) and more unsettlingly explicit.
Dipping in and out of their relationship to create a rounded picture of a life out of a series of beautifully observed glimpses, the film is distinguished by what Lelio in the press notes calls "a painful sort of levity".
There is plainly an allegorical intention too. Shots of street protests and discussions about social injustice position a country as ill-used and disrespected as Gloria is, but the idea is never forced. It's a singular human story before anything else.
It's helped by a soundtrack of Chilean pop (including a local cover of the Italian pop song Gloria that Laura Branigan made famous in 1982), which functions as a sort of Greek chorus and lends Garcia's solo scenes a beautiful pathos.
And it's Garcia who holds it all together, appearing in every scene almost every frame to create a character of magnificent imperfection. This comes highly recommended as a film for grown-ups.
Cast: Paulina Garcia, Sergio Hernandez, Diego Fontecilla, Fabiola Zamora
Director: Sebastian Lelio
Running time: 105 mins
Rating: M (sex scenes, offensive language and drug use. In Spanish with English subtitles