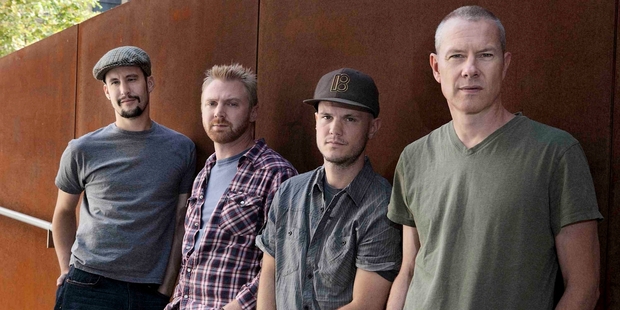 With his closely cropped hair, short-sleeve shirts and baggy jeans, Page Hamilton doesn't look like your average rock star.
In fact, if you mistook him for a desk-bound office worker, he wouldn't be offended.
"Most of my clothes I wear now were bought for me from various ex-girlfriends," he laughs. "I don't see the point in getting all dressed up to play music."
Hamilton, the front man for New York alt-metal act Helmet which is touring New Zealand for the fifth time this weekend, has never been interested in his or his band's image.
He just wants to play music. And with seven albums from a 25-year career behind him, it's an attitude that has seen Helmet stand the test of time.
Formed in the late 1980s, Helmet has released a string of albums - try 1994's Betty, 1997's Aftertaste or 2010's Seeing Eye Dog if you're in the mood for something angry - with a revolving cast of musicians that has gone on to inspire many bigger metal bands.
But something that may surprise casual fans is that, with their odd time signatures and jagged riffs, Helmet has been inspired by jazz, which Hamilton has a masters degree in.
"People who aren't musicians say, 'I don't hear jazz in Helmet'. Well, you're not listening closely enoguh. Jazz is about feel and improvisation and harmony - what you choose to do against different chords, and that's what Helmet does.
"I play jazz music every morning, it's one of my great loves in life."
Hamilton, who would be on tour for most of the year if he could, says he knows fans are turning up to shows these days to hear their favourite Helmet songs.
But he says it's more exciting to "vary things" by choosing from a repertoire of up to 70 songs, including non-album tracks and B-sides.
"The real hardcore Helmet fans appreciate that because they've heard us do the 'hits' before. They know Just Another Victim, and Meantime and Unsung and Give It and Wilma's Rainbow and Milquetoast.
"We've done those ... we can play them in our sleep."
His no-frills attitude towards the band's image crosses over into Helmet's live shows.
"I don't know how else to do it other than wholeheartedly and honestly," he says.
"I think people who love Helmet get that there'll be no exploding powder kegs or costume changes or fancy lights.
"It's just absolutely someone singing and playing from the heart. It seems right, it feels right. That's how all my heroes played."
Who: New York band Helmet
Where: Bodega, Wellington, tonight. Galatos, Auckland, Saturday night.