Dame Judi Dench's new role traces a woman's physical and spiritual journey to find her child, writes Susan Griffin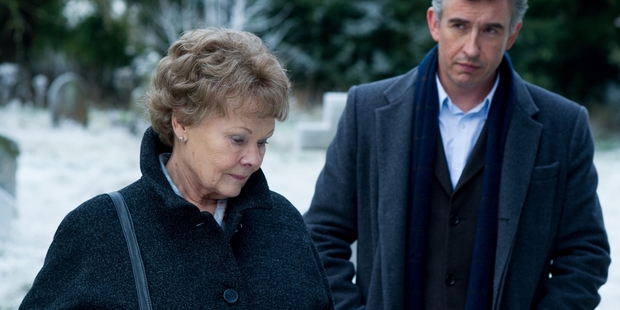 Not many people get to see themselves portrayed on screen by one of the great acting talents, but an Irishwoman by the name of Philomena Lee can lay claim to that feat.
"I couldn't believe it," says Lee of hearing that Judi Dench had been cast to play her. "I like you in the Bond films and I like As Time Goes By with Geoffrey Palmer," she says, turning to a smiling Dench who's sitting to her left.
Although the two women have only met a handful of times they have a natural rapport, as they talk about the movie Philomena.
It's a tragic tale and, unfortunately, not an incredibly rare one for women like Lee who, as an unmarried teenager in 1950s Ireland, fell pregnant and was disowned by her family.
She was sent to a convent to have her baby, before being made to "repay" the nuns by working in the laundry.
Lee was given one hour a day with her son Anthony and then, when he was 3 years old, he was taken from the convent without her authority (she later discover he'd been sold to an American family).
She spent the next 50 years trying in vain to find him.
Through a set of circumstances she met journalist Martin Sixsmith who arranged a visit to the US to find out what had happened to him. The movie follows these two very different people as they embark on an extraordinary road trip.
"It's a wonderful film," says Lee, who's 80. "Judi does [the story] justice. What a lady."
Although Sixsmith turned Lee's story into a book called The Lost Child of Philomena Lee, Dench says she wasn't aware of the story before receiving the script.
"Steve [Coogan, who produced, co-wrote and stars in the movie as Sixsmith] came to my home and read it to me and I immediately knew I wanted to do it," says 79-year-old Dench who, in a curly wig and anorak, is unrecognisable in the movie.
"It's very different to the last thing I did," says the Oscar-winning star, referring to her role as M in the Bond movies.
The first thing she wanted to do was meet the woman she'd be playing. "We met for lunch, didn't we, just before we started filming," says the actress, admitting how "very difficult" it is to portray someone real - and still living.
Although Lee's story has now been transferred to the big screen, it wasn't an easy decision for her to go public with a secret she'd kept for half a century. On what would've been Anthony's 50th birthday, she finally told her two children.
It was a chance meeting between her daughter's friend and Sixsmith that led to her story being told, although the former BBC foreign correspondent-turned-director of communications for Tony Blair's government was initially unsure about taking on a human interest story.
"The friend said she knew someone with a good story and would he be interested and, of course, he said no, like he does in the film, but then he later got in touch," says Lee.
She and Sixsmith make an odd pairing. She's a chatty and trusting soul who takes people at face value and retains her religious faith, whereas he's a highly educated man who has travelled the world but has become jaded, cynical and without religious conviction.
It was this unusual partnership that intrigued Coogan (best known for Alan Partridge) and inspired him to option the book rights.
Philomena marks the fourth time Dench has worked with director Stephen Frears. "I love working with him, he's just supreme to work with," she says. "He hardly says anything but he doesn't need to, you get the gist of it."
Lee also met the esteemed director despite his protestations that she shouldn't watch filming on those particular days (the scenes were in the laundry and included the moment the young Lee sees her son being driven away).
"I didn't know how I'd react to it all but to see it being made was very emotional," says Lee. "Maybe the film will help a lot more women that suffered like I did and kept it a secret."
Dench also hopes the movie will bring comfort for those who had similar experiences, but she also believes it's testament to one woman's courage.
"I think the story is about Philomena's faith and strength and I think it's completely remarkable," she says. "As Stephen says, 'She wears the tragedy of the story very lightly'."
What: Philomena starring Judi Dench and Steve Coogan
When and where: At cinemas from Boxing Day
- AAP